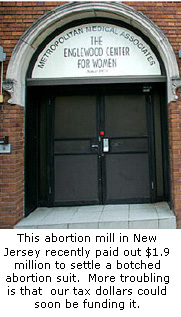 Huge pay-out raises questions about the dangers of abortion facilities that will be eligible for tax-funding should health care reform include abortion coverage.
By Cheryl Sullenger
Englewood, NJ – A troubled New Jersey abortion clinic affiliated with the National Abortion Federation (NAF) has paid out $1.9 million to settle a lawsuit brought by a Rasheedah Dinkins, who suffered a horrifically botched second trimester abortion in 2007.
The huge pay-out raises questions about the quality and safety of abortion facilities that will be eligible for tax-funding should health care reform now under consideration in the Senate include abortion coverage.
"We also have to wonder if taxpayers will be footing the bill for enormous malpractice settlements for botched abortions done on the public option plan," said Operation Rescue President Troy Newman. "This case should be a wake up to Congress."
Dinkins sued the Metropolitan Medical Associates and abortionists Keith Gresham and Nicholas Kotopouloswas alleging that during her abortion, she suffered a massive loss of blood from a uterine rupture that resulted in a stroke, a collapsed lung, a tracheotomy, and a hysterectomy. She was placed on a respirator and suffered a coma that lasted three weeks. The NAF was also named in the Dinkins suit.
"Businesses don't pay out an amount like $1.9 million unless it fears that a jury would award a whole lot more. It shows how negligent and shoddy this abortion mill is," said Newman.
After Dinkins' suit became public, two other women came forward to tell of botched abortions at Metropolitan Medical Associates that nearly killed them.
Metropolitan Medical then failed an inspection and was closed by the State for nearly a month while they cleaned up filthy conditions including dirty forceps, rusty crochet hooks used to remove IUDs, and a quarter-inch of dark red "dirt and debris" under an examining table. After it failed a second inspection Operation Rescue undercover investigators caught the clinic scheduling appointments, even though it did not have permission to re-open at that time.
"We've seen what NAF affiliation mean. We bought and closed an NAF-affiliated abortion clinic in Wichita, Kansas, in 2006, and discovered dangerous, filthy conditions including roach and mold infestations, out of code plumbing and electrical, and dirty, blood-stained carpets, to name a few," said Newman.
"Considering the appalling conditions at NAF abortion mills, it is disturbing to know that they are pulling out the stops to lobby for abortion funding in the health care bill. It would be monumentally irresponsible to give one cent of our tax money to these filthy abortion chop shops."