By Cheryl Sullenger
Cleveland, Ohio – To listen to abortion supporters, one might think serious abortion complications are exceedingly rare. They are not. One woman learned that the hard way after she was seriously injured during an abortion on March 17, 2018 – St. Patrick's Day — the day her luck ran out.
Women often walk into abortion facilities across America thinking the worst will never happen to them, until it does.
"Women who have abortions are playing a dangerous game of chance. You never know when their luck will run out, and when it does, the consequences are life-threatening — and sometimes life-ending as we have seen far too many times," said Troy Newman, President of Operation Rescue.
An ambulance was called to the Preterm abortion facility in Cleveland, Ohio, at 5:22 p.m. for a woman whose injuries during a 13-week abortion were so serious that they caused heavy bleeding could not be stopped. She required emergency transport to a nearby hospital, according to a 911 call obtained by Operation Rescue. While a 911 Computer Aided Dispatch printout was heavily redacted, thankfully, the audio file was not.
According to the 911 recording, the 35-year old patient was "bleeding quite heavily" from her cervix after the completion of her abortion. The Preterm employee noted that she was otherwise awake, oriented, and breathing normally.
This incident came just a week before another ambulance transported a woman from Preterm covered eerily in a black sheet.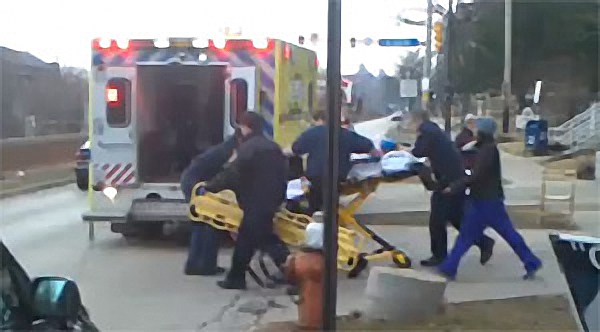 Preterm is certainly no stranger to the ambulance companies, which have responded to calls for help there at least a dozen times since 2010.
In 2014, one ambulance transported Lakisha Wilson, 22, after a 911 call reported that she was not breathing at all. She was pronounced dead later at University Hospital Case Medical Center.
"We have complained about shoddy patient care practices at Preterm for years now, but the Ohio Department of Health and the medical board continue to make excuses for them, even though many women have been seriously injured and one woman has died. Patient safety should be a primary concern for the Department of Health, yet they allow Preterm to continue to endanger women," said Troy Newman, President of Operation Rescue. "I can guarantee that unless oversight agencies take swift action, more women will suffer harm from incompetent abortions and sloppy patient care at Preterm. It is sadly inevitable – and yet completely avoidable."