By Cheryl Sullenger
Ann Arbor, MI – An ambulance was spotted by two pro-life activists on March 17, 2017, at the Planned Parenthood abortion facility in Ann Arbor, Michigan. The ambulance appears to have transported a patient.
Video shows an ambulance partially concealed behind bushes at the Planned Parenthood office. The pro-life supporter, who took the brief video was participating in a 40 Days for Life prayer vigil. She noted that she had tried to get post-abortion healing materials to the man who accompanied the patient, but unfortunately, he was not receptive.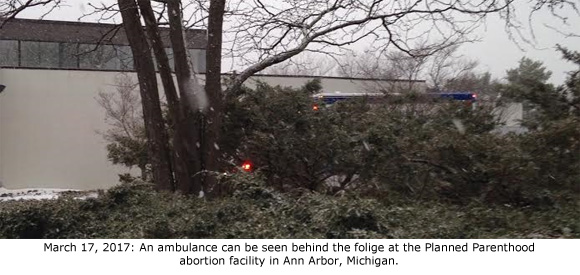 Previous medical emergencies that took place at the Ann Arbor Planned Parenthood occurred on March 12, May 8, and June 26, 2015.
"While we don't have a lot of information on this obvious medical emergency at Planned Parenthood in Ann Arbor, when we look at how many of these incidents are taking place around the country, it becomes obvious that there is a health and safety crisis at Planned Parenthood abortion facilities around the nation," said Operation Rescue President Troy Newman. "Since Planned Parenthood insists on profiting from the killing of innocent children and can't keep their patients out of the emergency rooms and morgues, taxpayers should not be subsidizing their carnage. We must continue to urgently press Congress to defund Planned Parenthood."
Operation Rescue has documented eight medical emergencies at Planned Parenthood abortion facilities nationwide in the opening weeks of 2017, but that number is far from comprehensive, and reflects the need for better abortion complication reporting laws in every state.
Please continue to contact your U.S. Congressman and Senators and urge them to defund Planned Parenthood.