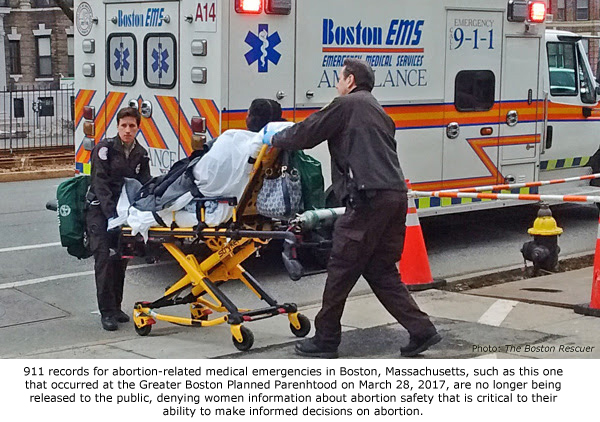 The incidents took place on the following dates:
05/19/18;
05/30/18;
07/05/18;
09/07/18;
09/11/18;
10/19/18;
11/28/18;
02/04/19;
04/20/19; and
4/23/19
The Greater Boston Planned Parenthood conducts abortions through 20 weeks, 6 days of pregnancy.
A letter dated May 14, 2019, from the Boston Public Health Commission admits that 911 records were generated, including audio files, detailed Computer Aided Dispatch (CAD) records, and Patient Care Records (PCRs) that are in the possession of Boston Emergency Medical Services.
However, in Boston, all such records are now classified as "medical records" that the Public Health Commission said could not be released due to HIPAA privacy laws.
That reclassification seems to be a relatively recent one.  Unredacted CAD records were readily available to the public as late as 2017. These records contained no patient identifying information, so patient privacy was never compromised.
Boston's handling of 911 records is an example of how local governments that have become less transparent, especially in jurisdictions that are controlled by pro-abortion Democrats.  In the past, if a record contained patient identifiers such as name or birthdate, such information was simply redacted and the records were released to the public.
"We have seen records provided with dates and addresses of the incidents redacted, even though we requested the records by providing the date and address. In many cases, we can't get any information.  It has gone beyond the absurd," said Troy Newman, President of Operation Rescue.  "This has been getting worse since we started tracking and publishing information related to medical emergencies at abortion facilities on a regular basis. I don't think that is a coincidence."
Withholding this previously public information prevents women from understanding the true dangers of abortion, which should be their right when making such serious life-or-death decisions.  These incidents also reveal that serious medical complications to abortion happen more often that Planned Parenthood will admit.
"The frequency that medical emergencies take place at abortion clinics – as evidenced by 911 records – blows the Abortion Cartel's 'safe and legal' mantra out of the water," said Newman.  "The last thing these people want is to be exposed as having lied to the American people about the basic premise used to decriminalize abortion.  That is a motive for Planned Parenthood to pressure jurisdictions to cover up for them."