By Cheryl Sullenger St. Louis, MO – For the seventy-second time since 2009, an ambulance rushed to the Planned Parenthood abortion facility in St. Louis, Missouri, to provide emergency medical services and transportation to a local emergency room. This Planned Parenthood is the last remaining abortion facility operating in Missouri. This incident took place on April 24, 2019.  While a light rain fell, dramatic photos show an African American woman strapped tight to a gurney as she is wheeled to an awaiting St. Louis Fire Department ambulance for transport to a local hospital emergency room.  A fire unit was also at the scene in support. This woman likely suffered complications to a surgical abortion, the only type offered at that location.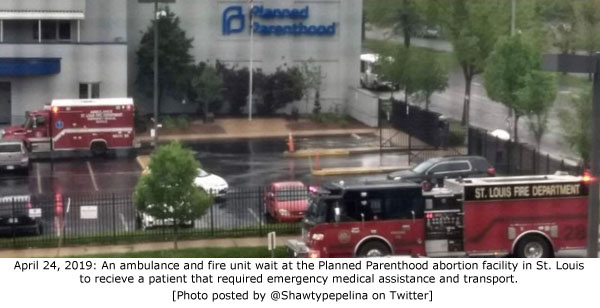 Kathy Forck of Columbia 40 Days for Life told Operation Rescue that Missouri pro-life supporters have confirmed that the number of abortions at the St. Louis Planned Parenthood have dropped dramatically, perhaps because the facility no longer dispenses abortion pills. Operation Rescue confirmed that women seeking abortion-inducing drugs from Planned Parenthood are being referred to a Planned Parenthood facility in Belleville, Illinois, approximately 16 miles away. This may be because Planned Parenthood cannot comply with Missouri's
new regulations
that require abortion facilities that dispense abortion pills to maintain an approved written complication that contracts with two ObGyns to be on call around the clock to treat women who experience complications due to abortion drugs. "We support the new abortion drug regulations in Missouri and urge other states to adopt similar measures.  These regulations are saving lives," said Operation Rescue President Troy Newman.  "The decrease in revenue could spell the end of this dangerous abortion facility.  I pray it closes for good very soon." Abortion drugs have a much higher complication rate than surgical abortions.  Five to seven percent of women who take the combination of Mifepristone and Misoprostol to end a pregnancy will suffer incomplete abortions that usually require surgical procedures to complete.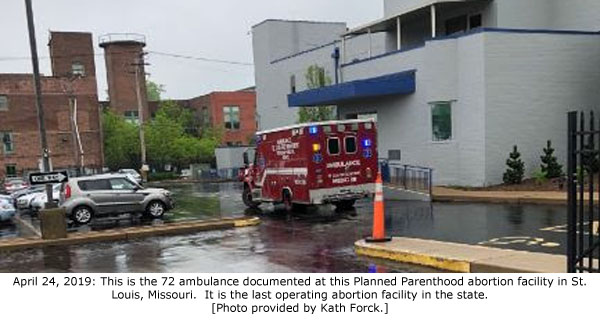 But that's not to say that surgical abortions at Planned Parenthood in St. Louis are safe, as the latest medical emergency on April 24 — and the 71 that came before it — demonstrates.  In fact, Operation Rescue, which documents medical emergencies at abortion facilities around the nation, has named the St. Louis Planned Parenthood "America's Most Dangerous." Operation Rescue sued the St. Louis Fire Department in 2013 to obtain information about the many medical emergencies witnessed by pro-life activists.  Due to a
settlement agreement
, Operation Rescue obtained records that initially revealed 31 more emergencies at Planned Parenthood than originally documented. Further records obtained by Operation Rescue have also included more incidents than were previously known. By far, the most common reason for calls for emergency assistance and transport at the Planned Parenthood in St. Louis is hemorrhaging, which is a life-threatening condition.
Read more about the 72 medical emergencies documented at the St. Louis Planned Parenthood since 2009 at Abortion911.com.
[Photos courtesy of Kathy Forck, and @Shawtypepelina ]