The first emergency transport was on November 8, 2022, at about 12 noon, and involved a 42-year-old woman suffering from vaginal bleeding. The computer-aided dispatch transcript of the 911 call identified the emergency as high priority. According to Operation Rescue associates who were present on the sidewalk that day, Erin King and Yogendra Shah were the abortionists on duty.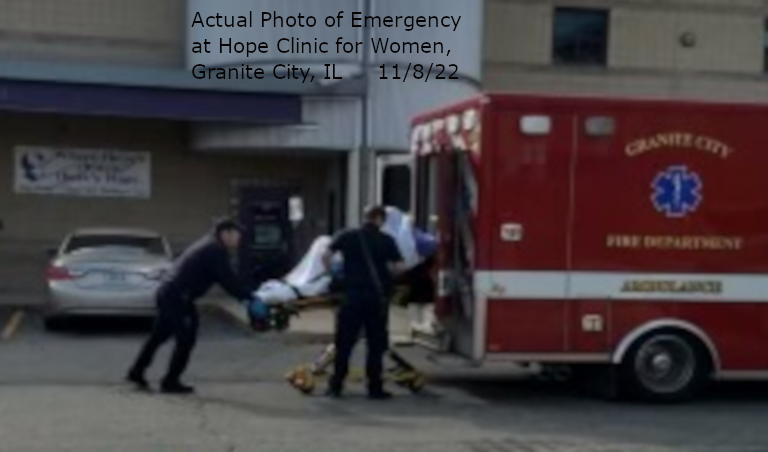 The second emergency call was initiated at 6:15 p.m. on November 9, 2022. The computer-aided dispatch transcript reveals the emergency involved a female experiencing procedure complications, also noted as high priority.  According to the pro-lifers present, Erin King and, presumably, Tessa Madden were on duty that day when several "very late-term" women presented at the facility.
The nurse who called 911 from the clinic sounded disturbingly cheerful, even playful, concerning the hemorrhaging 42-year-old woman. And, in the call the next day, her behavior was even more alarming.
"By her laughter, this so-called nurse gives a clue to the degree of concern this facility's staff had for this suffering woman who was possibly in a life-threatening situation – or any woman who enters the doors of this hopeless facility for that matter," said Troy Newman, Operation Rescue President.
Calls made to 911 from this clinic continue to be vague in nature compared to typical 911 call communications concerning medical emergencies. Dispatchers are generally much more thorough in their questioning to determine the patient's condition. The term "requires a higher level of care," used repeatedly by this facility, seems to be an all-encompassing description that identifies the patient's condition as "high priority."
Just since the spring of 2020, Operation Rescue has now reported on 15 calls to 911 requiring transport of women to nearby hospitals for emergent follow-up care.
"This is a dangerous, callous, late-term abortion facility where well-developed babies are killed, and the well-being of their mothers are, likewise, disregarded in the process," said Newman. "Operation Rescue will continue to expose the truth about this hopelessly dark killing center."
You can help Operation Rescue Expose the Abortion Cartel by:
Sharing reports like this one on social media (click logos below to find us on GETTR, gab, and Truth Social)