By Cheryl Sullenger
New York, NY – While New York City was still in the throes of the nation's worst COVID-19 outbreak, two ambulances responded to a medical emergency at the Margaret Sanger Planned Parenthood on Friday, April 24, 2020.
Video provided to Operation Rescue by a local pro-life activist showed a New York Fire Department ambulance on standby while emergency responders from both ambulance crews loaded the woman into a Mount Sinai Hospital ambulance for transport.  The woman appeared to be awake, but in a fair amount of distress.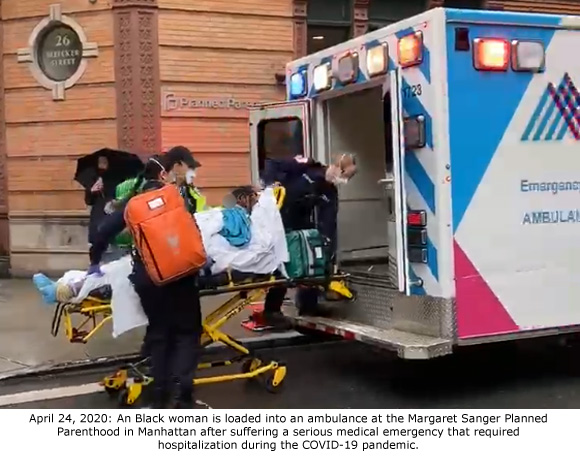 At the time of the emergency, New York City was enduring a lockdown related to COVID-19 that included a ban on elective surgeries, with the exception of abortion facilities, which were exempted from that ban.
By April 26, 2020, New York Public Health statistics showed that in New York City, nearly 40,000 people had been hospitalized due to the coronavirus with 11,460 of those people having died.  An additional 5,200 deaths were considered to be potentially related to COVID-19, although those figures are currently in dispute.
This is the second medical emergency at the high-volume Margaret Sanger Planned Parenthood abortion facility this year and the thirteenth such incident in the past 15 months.
On February 7, 2020, just as concern for the growing number of COVID-19 cases in New York was growing, the Margaret Sanger Planned Parenthood called for an NYFD ambulance to transport another woman for emergency hospitalization.
"While legitimate New York businesses were ordered to close and hospitals were denying care to people needing procedures such as organ transplants and cancer surgeries, the abortion businesses were operating on all cylinders and Planned Parenthood was sending women with botched abortions to occupy precious hospital beds," said Troy Newman, President of Operation Rescue.  "New Yorkers were suffering without jobs or medical care, while abortion businesses raked in record profits.  That shows how Planned Parenthood was given preferential treatment by Gov. Andrew Cuomo, who made killing babies top high priority in his state."