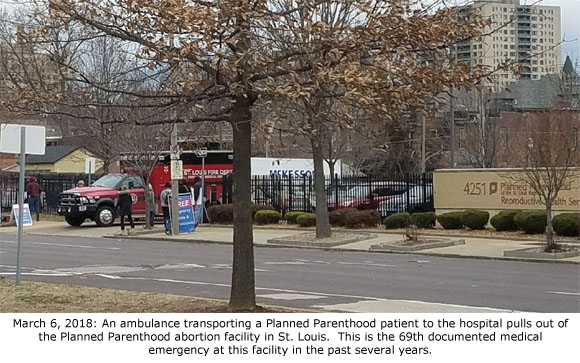 By Cheryl Sullenger
St. Louis, MO – Just eleven days after a Planned Parenthood patient was transported from their St. Louis abortion facility, an ambulance transported yet another Planned Parenthood patient to a hospital emergency room.
Kathy Forck, Campaign Director for 40 Days for Life in Columbia, Missouri, told Operation Rescue that she spoke with one witness who told her that "the ambulance lights were on coming down Forest Park, turned off when entering [Planned Parenthood]. When the ambulance left, the lights were initially on and the ambulance proceeded down Forest Park with the lights off."
This raises questions about whether Planned Parenthood is complying with a recently enacted law that makes it a crime for abortion facility employees to ask that ambulances run without lights and sirens since that delays emergency care for patients. During the incident on February 24, 2018, lights and sirens were also not in use.
"There needs to be an investigation into whether Planned Parenthood is in compliance with the law," said Operation Rescue President Troy Newman. "If they are delaying emergency medical care to patients, they should be held accountable in court like anyone else who commits crimes."
This represents the sixty-ninth medical emergency documented by Operation Rescue at this facility in the past eight and a half years.
According to Forck, "an additional 80 visits to emergency rooms from this same clinic during the same time frame" has been uncovered by Missouri pro-life activists.
Combined with the medical emergencies that took place at the Planned Parenthood in St Louis, this means a total of 149 women have required emergency care after abortions there, for an average of one injured woman every 20 days over the past eight and a half years.
This all comes as the City of St. Louis Board of Aldermen is attempting to pass Board Bill 34, which would create an eight-foot buffer zone that would prevent those offering practical assistance to women entering Planned Parenthood. An earlier vote on the bill was postponed and a new vote date has not been confirmed.
The proposed buffer zone is considered by pro-life groups to be unconstitutional because it would create a solid line that pro-life advocates could not cross. This would prevent sidewalk counselors from handing literature to those entering Planned Parenthood who actually want the information.
Brian Westbrook, Executive Director of Coalition for Life St. Louis reports that calls for police service at Planned Parenthood, which have been exaggerated and used to argue in favor of the bill, have actually decreased 89% over the past three years, and that only 15 calls for police assistance were made in 2018. One of those calls was for an assault on a peaceful pro-life activist, according to Westbrook.
"Due to the dangers posed by Planned Parenthood in St. Louis, the proposed buffer zone would prevent pro-life activists from offering warnings and practical help to women so they won't become the next unwilling visitor to the emergency room," said Newman. "Instead of protecting Planned Parenthood, the Aldermen should be thinking of ways to protect women and their babies from this very dangerous Planned Parenthood abortion business."