Sedgwick County Commissioners, who voted 4-1
last week to recommend it halt abortions during the COVID-19 pandemic. Commissioners cited heavy traffic from out of state that increases the chances of spreading the Coronavirus as the reason for their decision.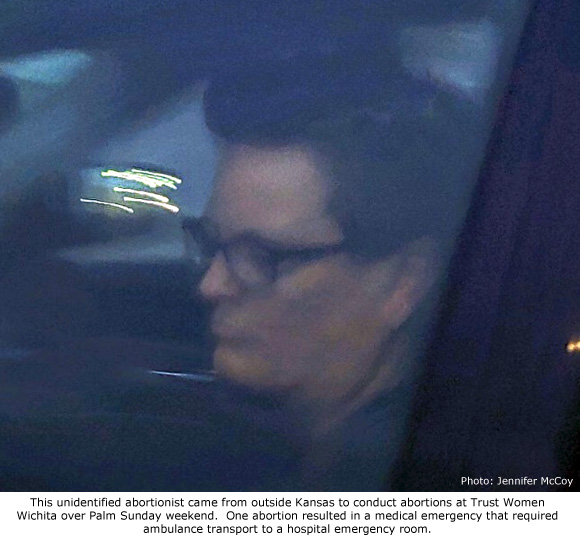 Abortionists at the abortion facility also are traveling in to Wichita from other states. Previously, a California abortionist was at Trust Women after reportedly
treating COVID-19 patients without being tested
for the virus. In response to the Sedgwick County vote, Democrat Gov. Laura Kelly, an ardent abortion supporter, declared abortions to be "essential services" and exempted Trust Women from her state-wide ban on "non-essential" medical procedures. Most of the women who reported to Trust Women on Sunday, April 5, 2020, were brought in vehicles with Texas license plates.  Others came in smaller numbers from several various states, including Oklahoma and Missouri. "In Wichita, our mayor is so adamant about Gov. Kelly's stay at home order that he is encouraging the public to
report everyone
they see who dares to leave their homes on 'non-essential' business.  Yet the Trust Women abortion business is allowed to encourage women and their companions to travel to Wichita from out of state where, in some cases, the COVID-19 outbreaks are worse than in Kansas," said Operation Rescue President Troy Newman.  "This makes killing innocent babies more important to our local and state leaders than any other thing – and that includes stopping the spread of the Coronavirus." Nevertheless, a small group of pro-life activists from the Kansas Coalition for Life gathered on Palm Sunday to offer help to women seeking abortions.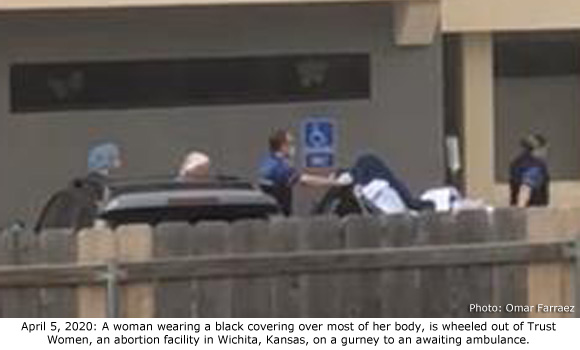 At approximately 1:20 p.m., an ambulance running without lights or sirens arrived at Trust Women while pro-life activists had their cameras rolling. The ambulance soon inexplicably left without a patient, but returned minutes later to collect a woman who was wheeled out of the abortion facility on a gurney covered by an ominous black covering. The woman was soon transported to nearby Wesley Medical Center without running lights or sirens. Trust Women has been known to repeatedly
request no lights or sirens
during medical emergencies, even though it delays response time. The incident seemed to shake Trust Women staff.  During the emergency, Pro-life activist Jennifer McCoy, who is also a nurse, told Operation Rescue that one pro-life woman who was taking pictures of the incident was threatened by an agitated clinic security guard, Carl Swinney, who reportedly threatened to "punch" her and beat her up. McCoy took the threat against her friend seriously.  McCoy has a personal protective order against Swinney, who was arrested and convicted of
battering her
in 2016 as she peacefully and lawfully exercised her First Amendment rights outside Trust Women.  Swinney has also been
convicted of at least three counts of drunk driving
. While the emergency responders were still caring for the woman inside the abortion facility, at least four Wichita Police officers arrived at the scene to confront McCoy about a noise complaint.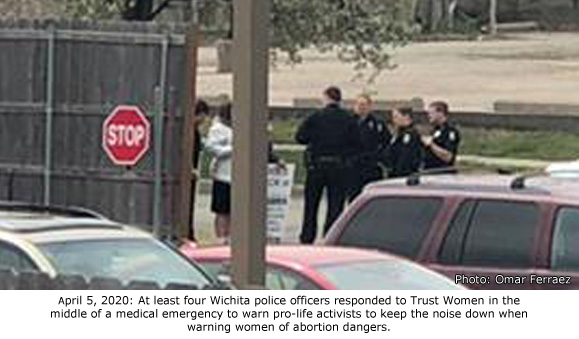 Officer Burnett (Badge Number 2563) addressed the complaint made by a woman from the neighborhood who was caring for a sick patient in one of the nearby homes. She objected to pro-life activists who used bull-horns to communicate across the large parking lot or across a wide flood-control canal next to the abortion facility.  Burnett provided McCoy with a hand-written case number that she believed read 20C020652.  No action was taken by the police, who also did nothing to investigate the alleged threats made by the clinic's security guard against the pro-life woman. Earlier, McCoy told Operation Rescue that a woman in scrubs had walked over to her to complain about the ruckus because she was caring for a COVID-19 patient at a nearby home.  The woman even admitted that she had contracted the virus herself while in New Orleans earlier this year for Mardi Gras, but had recovered. "The medical emergency emphasized the dangers that Trust Women poses to the public on a regular basis.  But with COVID-19 cases increasing in Wichita and with cases in the same neighborhood as the abortion clinic, it is crazy to keep that abortion mill open," said Newman.  "It must be closed immediately to protect innocent babies from the brutality of abortion, to protect women from suffering botched abortions, and to protect the public from the spread of a deadly virus. The blame for any harm done by Trust Women lies at the doorstep of Gov. Kelly, who is putting her abortion agenda above the health and safety of the people of Kansas." Operation Rescue is continuing to investigate the Palm Sunday medical emergency as well as other potential violations, and will post updates as they come in.

By Cheryl Sullenger Wichita, KS – While churches remained closed on Palm Sunday in fear of the Coronavirus, Trust Women Wichita was open for business, conducting approximately 40 abortions – one of which led to a medical emergency that required a woman to be transported by ambulance to Wesley Medical Center for care the abortion business was incapable of providing. Trust Women is the same facility involved in a decision by