By Cheryl Sullenger
Beverly Hills, CA – Hundreds of people drive by it every day without giving it a second thought. But this nondescript gray concrete and glass building, which is virtually indistinguishable from others on Beverly Hill's La Cienega Boulevard, has a secret.
There are no flashy signs or pink logos outside this building to draw women inside, but it houses an abortion facility nonetheless.
But it is not just any abortion facility.
To walk into the waiting room of the Prochoice Medical Center, a woman might feel like she is walking into someone's living room. Plush upholstered furnishings and lighted artwork adorning the walls are meant to make any wealthy woman – including Hollywood celebrities – feel comfortable.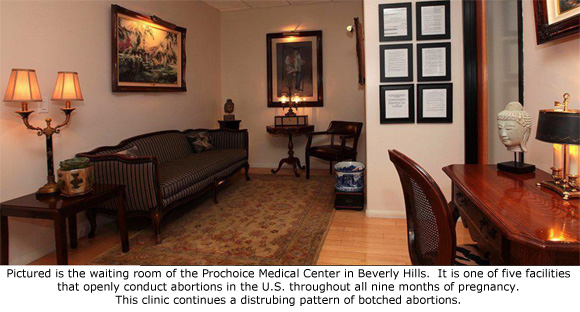 So, what's its secret?
It is one of the few outpatient abortion facilities in the nation that openly aborts babies throughout all nine months of pregnancy. It focuses exclusively on conducting abortion and no other service. The woman that runs it, Josepha Seletz, is known as the "Abortionist to the Stars."
"It is like having a torture chamber in the middle of a swanky American city. People have no idea that large, viable babies are being dismembered or otherwise slaughtered inside that building," said Troy Newman, President of Operation Rescue. "This abortion business' attempt to cater to the comforts of the elite is like putting lipstick on a pig. It's a national disgrace."
But there is something else about this abortion facility known only to ambulance drivers and a few pro-life activists who study such things.
It is dangerous.
Even according to abortionists' own literature, the risks of late-term abortions increase with each week of pregnancy, making late-term abortion facilities such as Seletz's Prochoice Medical Center among the most dangerous in the country.
As if to serve as a case in point, Operation Rescue recently received 911 records from an emergency there on May 16, 2018 – less than a month after a previous incident that required a patient to be transported by ambulance to Cedars-Sinai Medical Center for emergency treatment.
The May incident was classified a Priority Two medical emergency, meaning that the condition of the patient, described as a female in her thirties, was serious but not life threatening. Like the one before her, this woman was transported to Cedars-Sinai Medical Center for further treatment.
Heavy redactions in the 911 call audio recording conceal any other details of the incident.
She was the seventh woman sent by ambulance to the hospital by Seletz in the past three years. The fact that the last two were only just over three weeks apart may represent an increase in dangers at this very late-term abortion facility.
"Outpatient abortion clinics simply are not equipped to handle the serious complications that can happen during high risk late-term abortions. Women have died from these abortions as a result," said Operation Rescue President Troy Newman. "Americans are highly uncomfortable with late-term abortions. We are in desperate need of a nationwide ban on these barbaric procedures that brutally destroy the lives of viable babies and kill or maim far too many mothers as a first step toward ending all abortions. It's long past time to end this."