By Cheryl Sullenger
Chicago, IL – An overly-perky employee of Family Planning Associates Medical Group in Chicago, Illinois, called 911 for help with a woman who was suffering from heavy bleeding after an abortion on July 8, 2020.
The audio recording and Computer Aided Dispatch printout, which was provided to Operation Rescue by the Pro-Life Action League, showed that the caller attempted to downplay the potentially life-threatening emergency by indicating that the woman needed to be hospitalized for "observation" only.
What seemed like a routine call for a common, but serious, abortion complication took on a bizarre tone due to the over-the-top cheerfulness of the caller's responses, which gave away very little in the way of details that may have helped clarify the level of danger the bleeding woman was facing.
FPA: We're hoping to get transportation for a patient who needs to go to the hospital for observation.
911: Okay, what's wrong with them?
FPA:  She's having bleeding post-operatively.
911: She's – I'm sorry.  She's having bleeding what?
FPA: I'm so sorry.  It's so hard to hear through my mask. [Laughs.] Um, she's having bleeding post-operatively.
911: Okay. And where's the bleeding coming from?
FPA:  Uh, vaginal bleeding.
911: How old is she?
FPA: I'm so sorry, I do not have her chart in front of me right now.
911: Have you seen her?
FPA: I was asked by the doctor to call. 911:
Okay, do you know, is she 20 – 80 – do you know that?
FPA: I know she's not 80 because she was pregnant today.
An ambulance was dispatched with a Priority 1A, meaning that it was a trauma/CPR situation requiring an immediate response with lights and sirens recommended.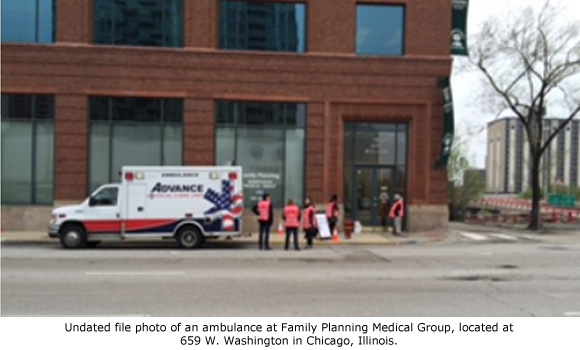 "This was a serious, potentially life-threatening medical emergency that was downplayed by the caller as simply a jovial request for transport for observation.  Nothing to see here," said Troy Newman, President of Operation Rescue.  "Thankfully, the 911 dispatcher realized it was more serious than that and got help there as quickly as possible.  This shows how abortion facilities try very hard to conceal the true dangers of abortion.
Eye witness reports second medical emergency
Last week, Operation Rescue received another report of a second medical emergency at this same FPA Medical Group facility just 10 days later, but this time, there was no record of a 911 call, which means the abortion business may have called a private ambulance service to avoid creating a public record of the incident.
"An ambulance left from 659 [W. Washington] this morning with its siren going . . .  It happened between 09:45 and 10:00 a.m. today," a local pro-life activist reported in an e-mail dated July 10, 2020.
When asked if photos were available, the activist responded, "Unfortunately, none of us had GoPros or took pictures with phones.  All we saw was an ambulance drive out from the side of the FPA."
"What is going on at that FPA that they are sending so many women to the hospital? Nine women in the past two years have been injured so seriously that they needed ambulance transport to the hospital — two within a ten-day period," said Newman.  "It is obvious this facility poses a clear danger to the public and should be thoroughly investigated and closed."