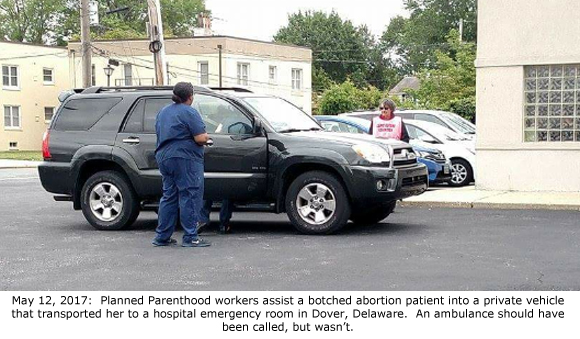 By Cheryl Sullenger
Dover, DE — It was the stuff of nightmares. A woman walked into the Planned Parenthood abortion facility in Dover, Delaware, last Friday thinking that she would be getting a "safe" abortion done by a competent provider. She couldn't have been more mistaken.
Instead she received a botched, incomplete abortion by done by Larry Roy Glazerman, a former Florida doctor who has hurt a woman during surgery before.
To make matters worse, Planned Parenthood refused to properly call an ambulance for the woman who was suffering from a tremendous amount of pain. Instead, clinic workers walked her and her boyfriend out to their private vehicle.
A pro-life activist on the scene at the time of the incident spoke with the boyfriend about what happened at the Planned Parenthood facility.
She told Operation Rescue that he said Glazerman started the suction abortion procedure but the baby "wasn't in the right position" and "would not fit into the suction tube." He instructed the boyfriend to take the patient to the emergency room.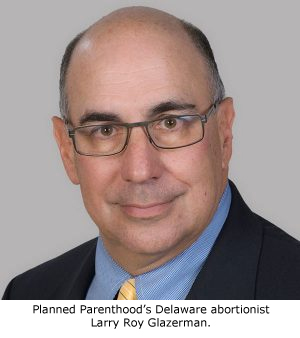 "The doctor there can do the abortion," Glazerman reportedly told the boyfriend, who took information from the pro-life activist, but turned down further assistance.
The woman was then rushed via private vehicle to Kent Hospital's emergency room where her abortion was presumably completed.
"It is outrageous that Planned Parenthood would refuse to call for an ambulance transport for a woman in the middle of a painful botched abortion," said Troy Newman, President of Operation Rescue. "It shows Planned Parenthood is more interested in covering up their mistakes than taking proper care of women."
In 2013, the Dover Planned Parenthood abortion office temporarily suspended surgical abortions after dangerous conditions and practices were uncovered, thanks to two former Planned Parenthood workers who came forward to testify before the Delaware Legislature and the news media about what they saw.
Jayne Mitchell-Werbrich and Joyce Vasikonis told WPVI-TV of a "meat-market style of assembly-line abortions where the abortionist refused to wear gloves, surgical instruments were reused without being cleaned, and "bloody drainage" remained on abortion tables between procedures, exposing women to blood-borne diseases."
"It was just unsafe. I can't tell you how ridiculously unsafe it was," said Mitchell-Werbrich. "Planned Parenthood needs to close its doors, it needs to be cleaned up, the staff needs to be trained."
Glazerman is licensed in Delaware, Pennsylvania, and Florida. While working in Florida, he performed a routine overian cyst removal procedure on Lisa Marie Carter, a former Department of Defense intelligence analyst. Carter sued Glazerman in 2012, after she experienced severe complications from the procedure. According to news reports, Glazerman sliced through her bowel during the procedure, causing a massive infection. As a result of the infection, Carter suffered the amputation of her hands and feet and a portion of her lower legs. She must now live in a nursing home.
"Perhaps it's no wonder that Planned Parenthood never called an ambulance for their botched abortion patient. Could it be that they were trying to conceal the complication in order to avoid further trouble for the abortion business as well as the troubled abortionist? With their federal funding currently at risk, it's possible," said Newman.
So far in 2017, there have been 17 documented medical emergencies at Planned Parenthood abortion facilities across the nation.
"Incidents like these at Planned Parenthood abortion businesses should give the Senate a sense of urgency when it comes to defunding Planned Parenthood," Newman said. "A business that makes their living killing and maiming women while dismembering their pre-born babies must not be enabled with our tax money to continue inflicting harm."