By Cheryl Sullenger
Aurora, IL — As the State of Illinois was enduring a full lockdown, Planned Parenthood in Aurora, Illinois, was open for business and conducting elective abortions in a facility packed with twice the number of people allowed under COVID-19 orders issued by Gov. J.B. Pritzker.
In the midst of the pandemic, on April 22, 2020, an ambulance was called to the Planned Parenthood abortion facility after something went wrong with an elective surgical abortion.
According to 911 records provided to Operation Rescue by the Pro-Life Action League, one abortion client suffered excessive bleeding (hemorrhaging) and required emergency medical transport to Rush Copley Medical Center, where ironically, elective surgeries were prohibited.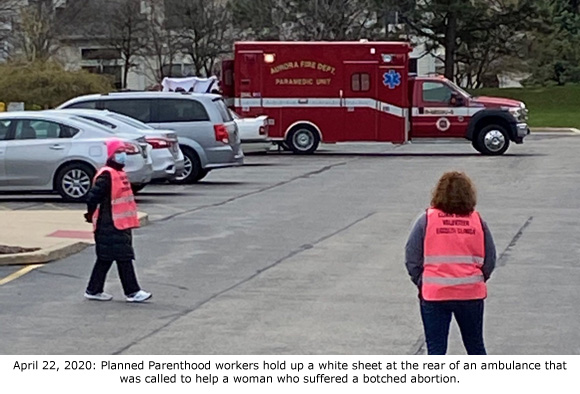 "It's irrational that the hospital was barred from conducting elective surgical procedures, while abortion facilities are allowed to do elective surgical abortions without so much as a limit on the number of people in the facility," said Troy Newman, President of Operation Rescue. "Abortion facilities are treated as if they are more important than hospitals or anything else. Businesses and churches were forced to close, but abortion facilities remain open with the blessing of Democrat Gov. Pritzker."
Even now, Rush Copley Medical Center places restrictions on the number of people it allows in particular areas of the hospital, while the state's COVID-19 plan continues to restrict essential gatherings to 10 people or fewer and prohibits gatherings that are "non-essential."
But during the April 22 medical emergency, 911 records show that there were 20 people inside Planned Parenthood – twice as many as allowed anywhere else in Illinois.
"This shows that abortions at Planned Parenthood are the most important thing there is in Illinois right now. If the lockdowns were really about saving lives, Planned Parenthood would have been one of the first businesses forced to close. But it isn't about that.  It is about containing and controlling the people – with abortion facilities completely exempt," said Newman.
The Planned Parenthood worker that phoned 911 for an ambulance for his hemorrhaging patient acknowledged that the abortion facility had screened for COVID-19 symptoms. However, any threat of asymptomatic spread of the virus seemed to be ignored.
"Democrat-controlled states appear to be the worst at restricting the rights of the people to exercise their religion, freedom of assembly, and rights to earn a living, while allowing unborn babies to die and women to be maimed by abortion," said Newman. "This is being driven by a politically motivated agenda that places killing babies as the top priority. We are seeing what life will be like if abortion-loving Democrats regain control of our country. We cannot let that happen. It's the main reason it is so critically important that we vote for strong pro-life candidates only in November."