By Cheryl Sullenger
Baltimore, MD – When a medical emergency arose at a Baltimore Planned Parenthood abortion facility recently, one Planned Parenthood employee did something unusual.  Instead of picking up the telephone and dialing 911 — the quickest way to get help — she used a Voice over Internet Protocol (VOIP) to call the Intrado Emergency Call Relay Center, which, in turn, placed the call to the 911 exchange.
However, when the woman from the call relay center provided an incomplete address given by the Planned Parenthood employee, identified as Raishonda Jefferson-Lampton, the call center was forced to put Ms. Jefferson-Lampton on the line directly with the 911 dispatcher.
Once she confirmed the Planned Parenthood facility's correct address, an ambulance was finally dispatched.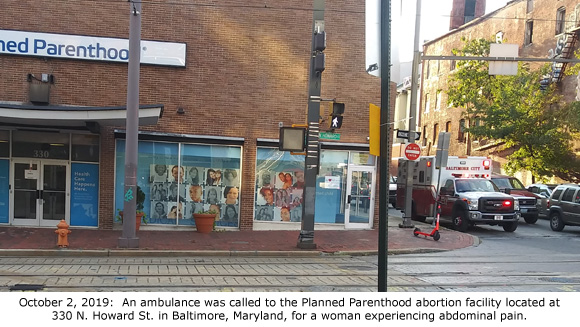 It is possible that Planned Parenthood was trying to avoid a public record of this incident by using an Internet-based line and routing through a third-party. Open records laws do not apply to private businesses, such as a call relay center.  But this ruse did not work for Planned Parenthood because the call relay center contacted 911 so an ambulance could be dispatched. This created a record that was subject to public access.
The rest of the 911 recording and the Computer Aided Dispatch printout, which were provided to Operation Rescue by the pro-life group Defend Life, were heavily redacted to remove any mention of why paramedics were needed.
However, Operation Rescue was able to locate the radio dispatch recording that indicated an ambulance was needed at Planned Parenthood for someone suffering "abdominal pain" – a symptom often associated with surgical abortion complications.
According to a witness at the scene, a woman was brought out on a gurney and loaded into a Baltimore City Ambulance.  The CAD transcript noted that there was a transport and change of location, presumably to a local hospital.
Planned Parenthood's use of a VOIP to contact a call relay center instead of 911 directly likely delayed the dispatch of paramedics to the scene.  This practice could potentially cause life-threatening delays.
"Planned Parenthood and other abortion businesses are actively trying to hide the number of women who suffer serious complications that require emergency hospitalization. The data we are compiling on abortion emergencies debunks their propaganda that abortion is safe. The evidence shows it is not," said Newman.  "We are grateful to the pro-life activists who were on the scene and to Defend Life for documenting this incident so the public can be alerted to the true dangers of abortion."