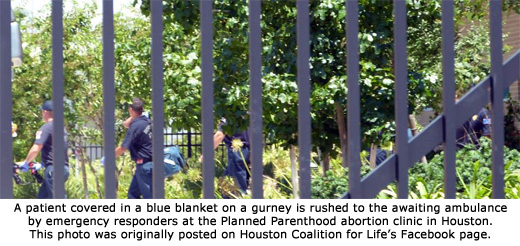 By Cheryl Sullenger
Houston, TX – For the second time in less than a year, the Planned Parenthood abortion clinic in Houston, Texas, has called an ambulance to transport a patient to a local hospital.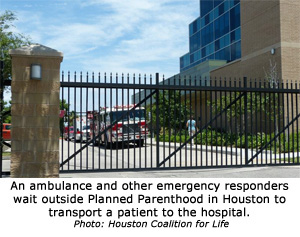 The Houston Coalition for Life posted two photos on its Facebook page showing an ambulance, fire truck, and a third emergency vehicle outside the large multi-story Planned Parenthood clinic on August 14, 2013, at approximately 1:00 p.m. A woman suffering an unknown condition was transported to a local hospital emergency room.
Last August, 911 records showed that another Planned Parenthood patient who was hemorrhaging was also sent to the hospital via ambulance.
Yesterday's incident is the eighth known medical emergency requiring ambulance transport since the 78,000 sq. ft. abortion facility opened in May, 2010. Planned Parenthood's web site indicates that it supplies abortions up to 20 weeks gestation.
According to Planned Parenthood's public tax records, the abortionist of record is Martin Fine.
"As Planned Parenthood continues to injure women at an astounding rate, it is making our case for tighter clinic regulations," said Operation Rescue President Troy Newman. "Abortion clinics are inherently unsafe, but have been unaccountable for decades. Tighter safety standards expose the dangerous and shoddy practices that land women in the hospital, and give authorities a tool with which they can halt these hazardous facilities. As a result of the new laws, women will be spared and babies will be saved as we see abortion clinics close that cannot maintain safety standards. It is our hope that the new safety regulations recently passed in Texas will close this dangerous Planned Parenthood abortion business once and for all."
View the Houston Planned Parenthood's profile page at AbortionDocs.org.