Asked for the ambulance to shut off lights and sirens as they approached the Kalamazoo abortion business despite a "Priority One" medical emergency.
By Cheryl Sullenger
Kalamazoo, MI – A clip of a 911 call and other records recently received by Operation Rescue show that a 15-year old girl was transported from a Planned Parenthood abortion facility in Kalamazoo, Michigan, to a local hospital.
The recording and CAD printout show the teenager was having difficulty breathing, a critical emergency the Planned Parenthood abortion facility was not equipped to handle.
The ambulance was dispatched "Priority 1," indicating a serious, life-threatening condition. A Planned Parenthood worker instructed the ambulance to pick up the patient from the rear delivery entrance and also requested an "early shutdown," presumably of lights and sirens as the ambulance arrived. Shutting down lights and sirens could cause the ambulance to be delayed by traffic.
The incident took place on September 10, 2015. No further information is available on the 15-year old's condition.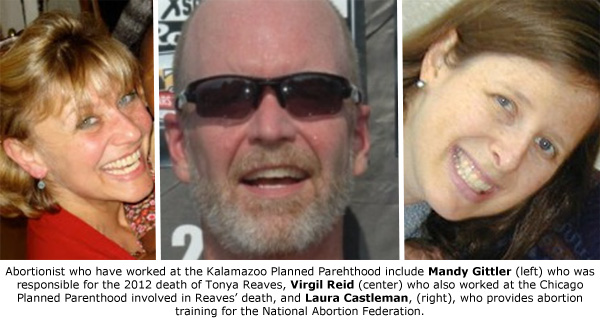 Abortionists who have been known to work at the Kalamazoo Planned Parenthood include:
• Mandy Gittler, who was responsible for the abortion-related death of Tonya Reaves in 2012. Planned Parenthood paid out a settlement of $1.5 million to Reaves surviving son.
• Virgil C. Reid, III, who also serves as medical director for Planned Parenthood Illinois, and worked at the same Planned Parenthood abortion center where Reaves was fatally injured.
• Laura D. Castleman, who has written extensively on manual vacuum aspiration techniques for abortion procedures and provides abortion training for the National Abortion Federation.
"Once again an ill-equipped Planned Parenthood abortion business has sent a suffering patient to the hospital for emergency care it could not provide," said Troy Newman, President of Operation Rescue. "The young lady is lucky to be alive, no thanks to Planned Parenthood or its dangerous staff of abortionists. There is no such thing as a 'safe' abortion business and our research into abortion abuses proves it."
Operation Rescue, which works to document cases of medical emergencies and other abuses at abortion facilities, has recorded nearly 100 cases of patient-related medical emergencies at abortion centers across the United States in the past 18 months alone. Those incidents represent only a small fraction of women who are actually hurt by abortion each year.
Further information about documented abortion injuries is archived by facility at AbortionDocs.org.