By Cheryl Sullenger
New York City, NY – There have been more ambulances summoned to the Planned Parenthood's flagship abortion facility, the Margaret Sanger Center in Manhattan for women who required emergency transport and treatment at New York hospitals. The alarming frequency that these incidents are occurring is making The Margaret Sanger Planned Parenthood one of the most dangerous abortion facilities in the nation.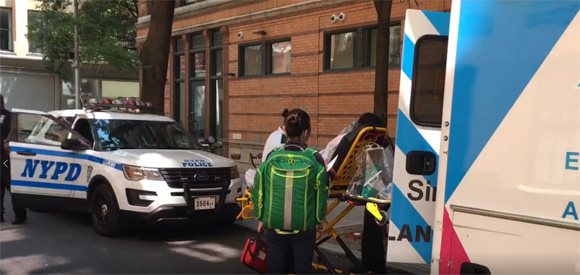 The most recent occurred on July 19, 2017.
Video taken by a pro-life activist on the scene showed an African-American woman on a gurney as she was loaded into the ambulance as police watched and New Yorkers passed by on the sidewalk.
Operation Rescue has also learned of a previously unreported incident that took place sometime between July 1-6, 2017.
Expectant Mother Care-EMC Frontline Pregnancy Centers posted photos of an ambulance at the Margaret Sanger Planned Parenthood on their Facebook page on July 7, 2017, then reported the following:
The ambulance that pulled up in front of Planned Parenthood today [July 7] was the second one we have seen there this week alone!! A firetruck and an ambulance pulled up and they went in with a stretcher. We have to inform people about what we have seen, and what the abortion providers do not want the public to know. Women deserve better than abortion, and they at the very least deserve to be informed about the risks that come with the procedure.
Previous medical emergencies took place on the following dates in 2017:
• January 18, 2017
• February 4, 2017
• March 3, 2017
• May 13, 2017
• May 24, 2017
• July 7, 2017
This represents the most ambulances reported at any abortion facility so far in 2017.
"The Margaret Sanger Planned Parenthood needs to be fully investigated for their shoddy patient care issues that are injuring women and hurting families," said Troy Newman, President of Operation Rescue.
"Somehow, Congress must put aside their bickering and partisan games and find some way to defund Planned Parenthood. It is beyond frustrating to see one woman after another butchered by these people while our tax dollars continue to flow into their coffers."
Please contact your Senators today and insist that they #DefundPlannedParenthood!