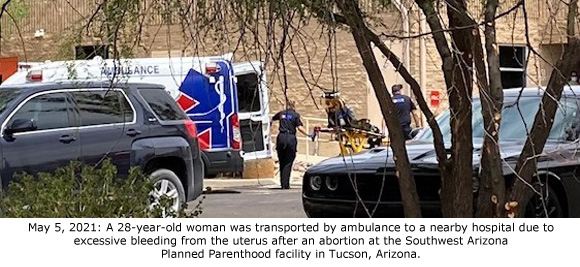 By Cheryl Sullenger
Tucson, AZ – A 28-year-old woman was transported by ambulance from the Southern Arizona Regional Health Center Planned Parenthood abortion facility in Tucson, Arizona, on May 5, 2021.  According to an anonymous source, she suffered from "excessive bleeding from the uterus."
Pro-life activists with Pro-Love Tucson witnessed the emergency.  Now, they are inviting the injured woman to contact them so they might offer help and support as she deals with her traumatic abortion experience.
"This is a matter of extending human compassion to someone who may be hurting, and I think we need more expressions of unconditional love like that in this world," said Operation Rescue President Troy Newman.  "We are hoping that this information will be circulated widely on social media platforms to increase the chances that it will be seen by the injured woman so she can connect with the people of Pro-Love Tucson who want to offer her help."
Mysteriously, Operation Rescue was informed by the Tucson Police Department that no 911 records exist for the May 5 emergency at Planned Parenthood.  However, Operation Rescue has obtained a recording of the 911 radio traffic that day that shows a fire unit and ambulance were dispatched to the abortion facility through the 911 system.  This indicate that public records do indeed exist.
"We are not sure why the Tucson Police Department is insisting that there are no records of an emergency at Planned Parenthood.  We continue to seek those records through other means," said Newman.
Abortionist Sigrid Gardner Williams is known to serve as the Medical Director of Planned Parenthood Arizona, Inc. and would have been responsible for the botched abortion that required emergency medical assistance earlier this month.
Pro-Love Tucson wants the woman who was transported by ambulance on May 5, 2021, to know that they care about her and invite her to contact them by phone at 520-329-3020 or by e-mail at ProLoveTucson@gmail.com.
[Photos provided by Pro-Love Tucson.]