32-Year-Old Woman Hemorrhages After Abortion at Preterm Cleveland
Cleveland, Ohio – Shortly after 6 p.m. on June 2, Fred Sokol observed multiple emergency vehicles arriving at the notoriously dangerous late-term abortion facility, Preterm Cleveland. Sokol regularly protests from the sidewalk at this facility in Cleveland, Ohio.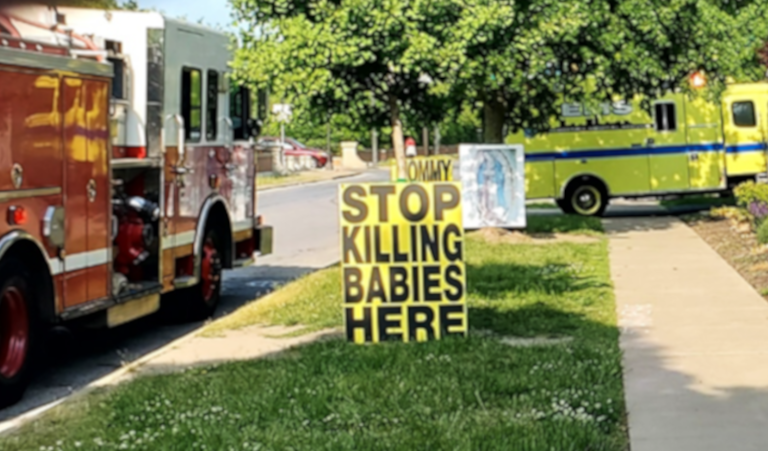 Cleveland EMS and Cleveland Fire Department arrived at Preterm to provide life-saving intervention for a 32-year-old woman experiencing a "POSSIBLY DANGEROUS hemorrhage."  Though heavily redacted, the computer-aided dispatch transcript contains a "special address comment" for dispatchers who call emergency medical professionals to this lethal facility:  "[S]end a supervisor to all calls for service at this location***"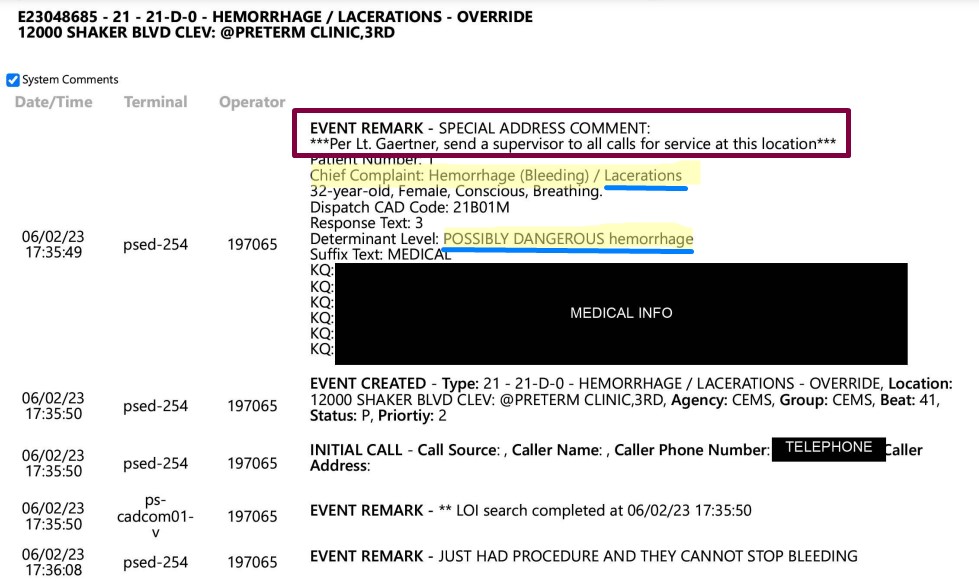 Sokol captured photos of the frightening high-priority, emergency scene. Six paramedics were helping the woman as she was wheeled out on a gurney and loaded into an ambulance before being rushed to a nearby hospital for life-saving treatment.
After a judge temporarily blocked the state's heartbeat law on September 14, 2022, abortion is legal in Ohio up to 22 weeks gestation. Extreme abortion activists are attempting to push further and enshrine abortion in the state's constitution. Ohio citizens could thwart their efforts by voting in August to require a supermajority to amend the state constitution.
Operation Rescue's most recent annual survey revealed that Preterm Cleveland performs surgical abortions up to 21 weeks gestation and bypasses safety protocols by sending high-risk chemical abortion pills through the mail. In addition, the profit-driven business charges considerably more for risky, low-overhead chemical abortion pills than for surgical abortions.
The facility collects well over $600 for pills that leave the mother to suffer extreme pain, frightening blood loss, and psychological trauma without medical supervision. According to the Charlotte Lozier Institute, chemical abortions have a complication rate four times that of surgical abortions.
This emergency hemorrhage, however, was apparently caused by injuries inflicted during a surgical abortion, as the transcript noted "hemorrhage (bleeding) / lacerations."
Operation Rescue obtained the 911 recording through a public information request. According to the Preterm employee who made the call, the hemorrhaging woman was no longer pregnant. The employee reported the "procedure" had been completed and the abortion facility staff was unable to control the bleeding.
Preterm has a long history of botching abortions. Because of Sokol's regular presence on the sidewalk, he has been able to provide details and documentation in 11 of the 23 medical emergencies Operation Rescue has investigated at Preterm. The facility has also failed health inspections for neglecting to verify credentials of medical personnel, utilizing untrained personnel, lacking physician oversight, failing to follow their own procedures during the hospital transfer process, and faulty record keeping. At least two specific instances of deficient chart documentation included other hemorrhages on April 5, 2019, and April 17, 2019.
Worse yet, at least two Preterm patients have died from horrific botched abortions:
"Preterm only seems to call 911 when women are on the edge of death," said Operation Rescue President Troy Newman.
"This case was apparently no different. We do not know if she survived the injuries sustained at this horrid excuse for a medical facility. We also do not know the circumstances in this woman's life or what drove her to make an appointment at Preterm. We do know that, with God, there is always hope in seemingly hopeless situations.
"This young woman did not have to kill her baby, and she did not have to put her own life at risk in the process."