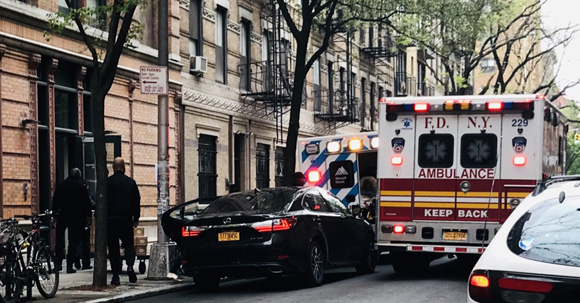 By Cheryl Sullenger
New York, NY – When the New York legislature cheered the expansion of abortion to allow non-physicians to conduct abortions and remove all gestational limits in January, it is doubtful that they understood the almost immediate impact that would have on real women in New York who would seek abortions in the ensuing months.
Every twelve days, on average, an ambulance now is called to Planned Parenthood's flagship abortion facility, the Margaret Sanger Center on Bleecker Street, to transport one of their abortion patients to the hospital.
The most recent known medical emergency took place on April 30, 2019, when a woman who was "distraught and in visible pain," according to one witness, was brought out of Planned Parenthood's high-rise, high-volume abortion facility and loaded into one of two awaiting ambulances.
Within a 72-day time span from February 16 to April 30, 2019, a total of six women are known to have been transported to a local hospital due to a medical emergency at the Margaret Sanger Planned Parenthood that its staff were not capable of treating.
"We don't really know who is doing abortions at the New York Planned Parenthood because they try very hard to keep that information secret," said Troy Newman, President of Operation Rescue.  "But with the dramatic uptick in medical emergencies there, it seems likely that Planned Parenthood is taking advantage of the new law to hire low-wage non-physicians to conduct abortions.  For Planned Parenthood, it has always been about the money."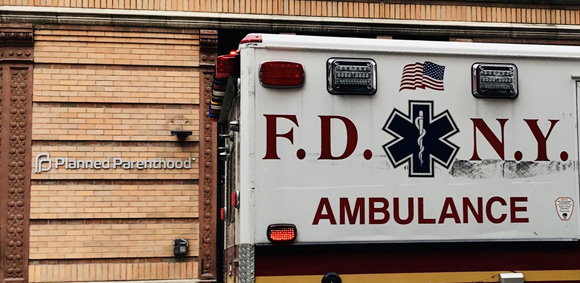 Operation Rescue receives reports of these medical emergencies from local pro-life activists who minister faithfully to abortion-bound women outside the Margaret Sanger Planned Parenthood.
Based on those reports, there were three documented medical emergencies at this Planned Parenthood abortion facility in 2018, eight in 2017, and two in 2016.
That makes six emergencies in the first quarter of 2019 significant.
This puts the Margaret Sanger Planned Parenthood on track to have at least 24 medical emergencies requiring immediate ambulance transport this year – three times the highest number documented in a single year.
"We understand that we are only seeing a fraction of the emergency transports that take place at this abortion facility because there are not always pro-life eyes on it," said Newman.  "But what we are seeing is an indication that women are being injured at a much higher rate there than we have ever seen.  It appears that New York's abortion law was really all about increasing profits for Planned Parenthood at the expense of patient safety.  This should stand as a warning to other states that are trying to allow non-physicians to do abortions.  It is a dangerous practice that should never be allowed."