UPDATE: 911 Computer Aided Dispatch Transcript indicates injured woman suffered abdominal pain and was transported.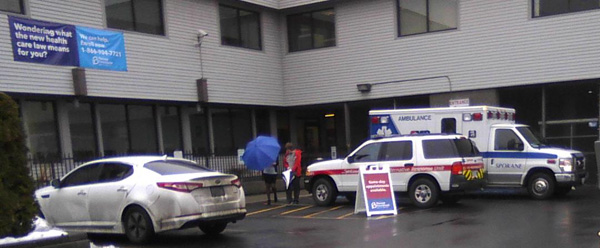 By Cheryl Sullenger
Spokane, WA – While Planned Parenthood workers in Spokane stood nearby laughing, emergency responders loaded a patient into an awaiting ambulance and rushed her to a nearby hospital for emergency treatment.
The emergency took place at approximately 9:30 a.m. on January 7, 2015, which was known to be an abortion day at the Planned Parenthood office.
Mary Sorensen, who volunteers for Sidewalk Advocates for Life, told Operation Rescue that the Planned Parenthood workers deployed umbrella to prevent her from getting a good photograph of the incident.
"Astoundingly, they were laughing – laughing as they used those umbrellas to block our view," said an incredulous Sorensen. "A woman is harmed, and they laugh?"
Nevertheless, Sorensen did get a photo of the ambulance near clear Planned Parenthood signage.
"All too many abortion patients have ended up on a slab in the morgue. We pray that this woman's injuries were survivable and that somehow those responsible for her suffering will be brought to justice," said Operation Rescue President Troy Newman. "We appreciate Mary Sorensen's quick thinking and action that provided documentation that is further proof that abortion in America is not safe and never has been. When women walk into a Planned Parenthood abortion facility, they run the very real risk of suffering a similar fate."
This incident represents the first medical emergency at an abortion facility documented by Operation Rescue in 2015.
The patient's status remains unknown.
The medical emergency at Planned Parenthood came as the City of Spokane was considering a new ordinance that will prevent pro-life sidewalk counselors from stepping into Planned Parenthood's driveway to distribute literature to abortion-bound women. At a packed city council meeting on Monday night, the Council voted to enact the ordinance at the behest of Planned Parenthood and over the voiced opposition of pro-life activists.
"With the obvious dangers that await women at Planned Parenthood abortion clinics, this ordinance only makes it harder for pro-life sidewalk counselors to inform women and offer them practical assistance. Unfortunately this means that women who might otherwise been helped will run the risk of ending up in the back of an ambulance or even on a slab in the morgue," said Newman. "We urge the Spokane City Council to reconsider their decision and we encourage pro-lifers affected by this ordinance to sue to have it removed if they don't."