By Cheryl Sullenger
St. Louis, MO — For the 28th time less than six years, a patient of the Central West End Health Center of Planned Parenthood in St. Louis, Missouri, was transported by ambulance to a local hospital for emergency care that could not be provided by Planned Parenthood.
The Coalition for Life in St. Louis posted numerous photographs of the March 7, 2015, incident showing a white woman wearing a standard hospital gown who was grimacing in pain while being wheeled from the abortion facility to the awaiting ambulance.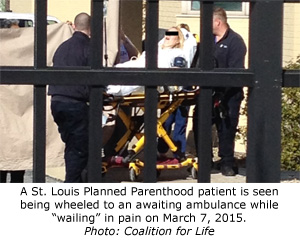 "The woman had blonde hair, appeared to be about in her thirties, was extremely pale and could be heard audibly wailing," reported Kenneth Capps, a Coalition for Life volunteer, who witnessed the event.
According to Capps, a fire truck and emergency response crew were the first to arrive at around 2:20 p.m. Fifteen minutes later, an ambulance was on the scene to assist. Finally, 25 minutes after the first responders arrived at Planned Parenthood, the woman was brought out of the abortion facility, loaded into the ambulance, and rushed away.
"Unfortunately, we may never know any more about this medical emergency since the St. Louis Fire Department is refusing to comply with public records laws and continues to conceal 911 records involving abortion-related emergencies at Planned Parenthood," said Operation Rescue President Troy Newman.
Operation Rescue sued the St. Louis Fire Department last year in an effort to obtain 911 records originating from Planned Parenthood in St. Louis. Operation Rescue had been provided 57 records, hinting that there were many more emergencies at Planned Parenthood that have so far been documented. However, the records, consisting of supposed Computer Aided Dispatch printout, were so heavily redacted that even the dates of the incidents had been erased.
"It is obvious that there are serious safety concerns at the Planned Parenthood abortion clinic in St. Louis and that those concerns are being compounded by the apparent willingness of city officials to cover up for them," said Newman. "Our lawsuit is proceeding and we are confident that we will prevail in the end."
The Central West End Health Center of Planned Parenthood in St. Louis is the last remaining abortion facility in that state.
Read about previous medical emergencies at the St. Louis Planned Parenthood abortion facility.