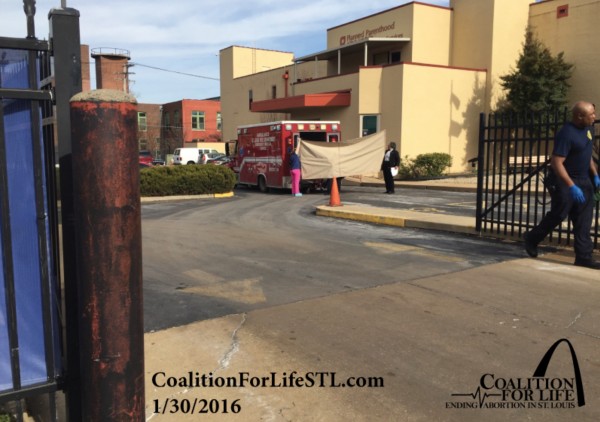 By Cheryl Sullenger
St. Louis, MO – The Coalition for Life is reporting that for the thirtieth time since 2009, an ambulance has again transported a Planned Parenthood patient to a hospital in St. Louis.
A firetruck and an emergence response team were the first to arrive, followed by am ambulance, according to a press statement issued by the Coalition for Life. A woman was loaded into the ambulance while clinic workers held a large tarp to prevent pro-life activists from photographing the incident. The ambulance rushed away with siren blaring.
This emergency comes exactly one month after the last such incident that occurred on December 30, 2015.
Operation Rescue has designated the St. Louis Planned Parenthood facility as the most dangerous abortion facility in America.
911 records, which are public, have been denied to Operation Rescue. In order to ensure that public records remain accessible, Operation Rescue has sued the St. Louis Fire Department for the 911 records.
"The public deserves to know why so many women are experiencing life-threatening abortion complications at Planned Parenthood in St. Louis. The Fire Department needs to stop covering up for Planned Parenthood and comply with state open records laws," said Troy Newman, President of Operation Rescue.
In addition, the Missouri legislative Interim Committee on the Sanctity of Life, chaired by State Sen. Kurt Schaeffer, subpoenaed records (with identities of women redacted) from Planned Parenthood in order to understand why so many women are being injured there.
However, Mary Kogut, president and CEO of Planned Parenthood of the St. Louis Region, has refused to comply and is currently in contempt. The Missouri Senate is in the process of pursuing contempt charges in an attempt to persuade Kogut to comply with the legally-issued subpoena.
"Planned Parenthood's attitude that they don't have to play by the same rules as everyone else, whether it be a legislative subpoena or high patient care standards," said Newman. "Planned Parenthood should not be held above the law. When it is, women are the ones who pay the price."