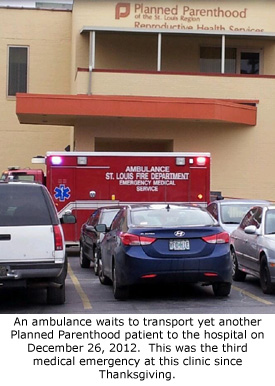 By Cheryl Sullenger
St. Louis. MO – For the third time since Thanksgiving, a Planned Parenthood abortion clinic in St. Louis, Missouri, has transported a woman to the hospital for emergency care, making it one of the most dangerous abortion clinics in the nation.
On December 26, at approximately 9:30 a.m., an ambulance was photographed by local activists loading a Planned Parenthood patient into an ambulance. The ambulance was accompanied by two police cruisers.
Mary Maschmeier of Defenders of the Unborn told Operation Rescue, "Her face was covered and we don't know her condition. How sad it is to see this scene but especially the day after we celebrate the birth of Our Lord."
Other medical emergencies took place at this Planned Parenthood abortion clinic on November 21 and December 1, according to Maschmeier. A fourth incident took place there on February 14, 2011.
Operation Rescue has been repeatedly denied access to 911 call records by St. Louis authorities, which could shed light on the rash of emergencies at Planned Parenthood. Such records are generally considered public documents.
"Planned Parenthood currently conducts their business under a shroud of secrecy provided by city agencies. That shroud is endangering the lives and health of women by denying the public critical information about abortion abuses," said Troy Newman, President of Operation Rescue and Pro-Life Nation. "We have not yet confirmed if the same abortionist was involved in injuring all these women, but something is very wrong at the St. Louis Planned Parenthood and someone needs to get to the bottom of this before more women are injured or killed."
Operation Rescue plans to seek investigations into this abortion clinic as soon as possible.
The St. Louis Planned Parenthood is the last remaining abortion clinic in Missouri. A Springfield location closed in 2005 after Missouri passed a law requiring abortionists to maintain local hospital privileges. In February, 2011, abortionist Allen Palmer retired and closed his Women's Gynecology Inc. in the St. Louis suburb of Bridgeton. Earlier this year, the Planned Parenthood clinic in Columbia stopped providing abortions after its abortionist quit.