By Cheryl Sullenger
Cleveland, OH – A woman who received an abortion at the Preterm abortion facility in Cleveland, Ohio, was forced to call 911 for an ambulance for herself after she was put out of the facility at the end of the business day while still hemorrhaging from her abortion.
The incident occurred on November 9, 2018, at approximately 5:50 p.m. The 911 recording obtained by local pro-life activist Fred Sokol, who also photographed the incident, revealed that the 25-year old patient had an abortion at 2:00 in the afternoon and was released despite her heavy bleeding because the clinic was closing and the workers just wanted to leave for the day.
"I'm outside Preterm and I'm bleeding heavy," the caller explained to the 911 dispatcher. "Like they just — they just left me bleeding like this."
The dispatcher later asked her, "Is the bleeding heavy?"
"Yes," the caller replied. "I'm bleeding through my clothes."
The dispatcher asked how many weeks pregnant the woman was. "I'm not pregnant no more," she said. "I had the abortion."
At times throughout the call, the patient can be heard sighing and verbalizing as if she was in pain.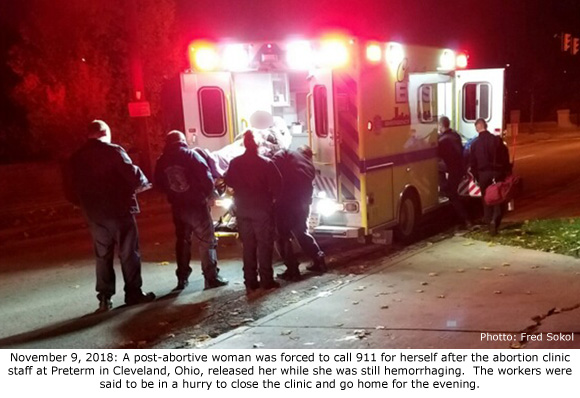 The bleeding woman was finally transported by ambulance to Metro Health Hospital for further treatment, according to a heavily redacted CAD printout.
"This incident shows a gross lack of concern for women on the part of the Preterm workers. They just wanted to leave for the day and really didn't care that this woman was bleeding uncontrollably," said Troy Newman, President of Operation Rescue. "This is exactly how women die. This woman was fortunate that she was able to get help on her own."
Newman referred to a June 2018, criminal case when New York abortionist Robert Rho was sentenced to serve sixteen months to four years in state prison for involuntary manslaughter after his abortion patient, Jaime Morales, hemorrhaged and died after an abortion. Rho knew Morales was hemorrhaging, but – like the Preterm workers – was in a hurry to leave the clinic for the day. He took steps to conceal her vaginal bleeding then released her knowing that she was still bleeding internally. Morales died a short time after her release.
In March 2014, Preterm was involved in the death of their own abortion patient, Lakisha Wilson. During the abortion, Wilson stopped breathing and suffered cardiac arrest. Records indicated that 911 was called a full thirty minutes later, but by then, it was too late to save her life.
"As we have been saying for years now, Preterm is a dangerous abortion facility that poses undue risks to women. It should have been shut down long ago," said Newman. "Rest assured that we are taking action through the legal process to make sure no other women are hurt, killed, or kicked to the curb by this heartless abortion clinic staff."
Visit Abortion911.com for more on other abortion-related medical emergencies at abortion facilities.