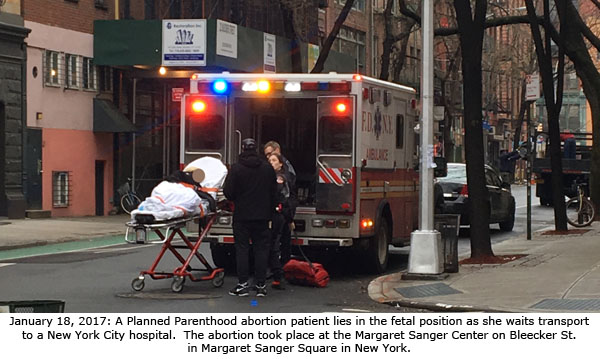 By Cheryl Sullenger
New York City, NY – As the 44th memorial of the Roe v. Wade Supreme Court decision that decriminalized abortion approached, Planned Parenthood provided us with a cautionary tale — one it hoped would never become public.
While Planned Parenthood prepared to celebrate "safe, legal" abortion, one of their own abortion patients was transported by ambulance from Planned Parenthood's flagship Margaret Sanger Center abortion facility in New York City. The incident took place on January 18, 2017, at approximately 11:45 a.m.
Just two hours before, a pro-life activist spoke with the patient's husband, who confirmed that the woman was at the Planned Parenthood facility for an abortion.
The woman was removed from the abortion facility on a gurney and wheeled to the ambulance, passing under a large pink banner that ironically read "Healthcare happens."
"Healthcare really doesn't happen at Planned Parenthood abortion facilities. There's no way anyone can seriously consider dismembering an innocent child in the womb to be 'healthcare,'" said Operation Rescue President Troy Newman. "In fact, Planned Parenthood is also responsible for injuring and killing women during botched abortions that their often sub-standard abortion centers. That's not rhetoric. That's fact and we have volumes of documentation to prove it. Abortion was never safe, and it still isn't."
The Planned Parenthood abortion patient was lying on her side in the fetal position on the gurney. One witness who photographed the incident told Operation Rescue that the woman appeared to be in a great deal of pain.
Pro-life activists on the scene were able to get contact information for further assistance into the hands of the husband before his wife was rushed to the hospital.
Operation Rescue confirmed through publicly available radio communications that an ambulance was dispatched to Planned Parenthood's Bleecker Street address on Margaret Sanger Square at 11:20 a.m. No other information was available on the patient's condition.
This represents the fifth documented medical emergency at the Margaret Sanger Center Planned Parenthood. On November 4, 2016, an African-American woman was brought out of the Planned Parenthood abortion facility in a wheelchair, placed on a gurney, and transported by ambulance. A similar incidents took place on March 1, 2016; October 14, 2015; and May 4, 2013.
"As the nation marks the 44th memorial of Roe v. Wade with pro-life marches around the country, we can see that the need to defund Planned Parenthood is more urgent than ever," said Newman. "If Planned Parenthood wants to continue the business of aborting babies and maiming women, it shouldn't do it with our tax money, which can be better spent on providing real healthcare to women."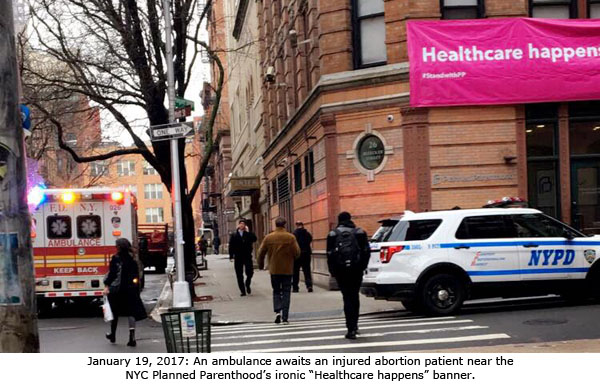 Read about women killed by abortion.
Visit AbortionDocs.org, the largest online collection of documents related to abortion abuses.