By Cheryl Sullenger
Dallas, TX – A Dallas abortionist that was recently in the news when a hospital terminated his hospital privileges, sent a woman to a hospital one day before a judge ordered that the privileges be restored.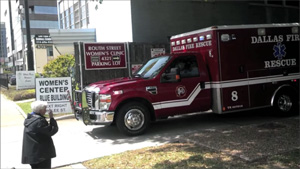 On April 16, 2014, at 11:55 a.m., an ambulance was called to the Routh Street Women's Clinic abortion facility in Dallas for a 42-year old woman who "was not feeling well" according to an Incident Detail Report obtained by Operation Rescue. Further information about the woman's condition was redacted.
A video provided to Operation Rescue by pro-life activists on the scene shows what appears to be an African-American woman on a gurney being wheeled to an awaiting ambulance.
She was transported to Baylor Medical Center under Priority 3, Code 1 protocol with lights and sirens running, indicating there was an urgent nature to the woman's condition. The ambulance was accompanied to the hospital by two private vehicles.
CORRECTION: Operation Rescue has learned that abortionist Opta Lea Braun, 81, was on duty at the Routh Street Women's Clinic on the day the ambulance transported a 42-year old woman to the hospital, not Jasbir Ahluwalia, as previously stated. According to the Texas Medical Board's online licensing information, Braun does have hospital privileges at two Dallas-area hospitals, but is not listed as holding hospital privileges at Baylor Medical Center where the patient was transported. The basic premise of this story was that the abortionist did not hold hospital privileges at the hospital where the patient was transferred. That is still true of Braun, according to TMB documentation. Ahluwalia is employed by the Routh Street abortion clinic. Other aspects of his licensing and hospital privilege history are accurate. Ahluwalia was apparently not on duty on the day of the incident.
Jasbir Ahluwalia, also does not hold hospital privileges at Baylor Medical Center.
Ahluwalia had his hospital privileges revoked by University General Hospital on March 31, 2014. This should have prevented Ahluwalia from conducting abortions under a new Texas abortion law passed last year that requires that abortionists maintain hospital privileges within 30 miles of their abortion facilities.
Ahluwalia sued University General Hospital over the loss of hospital privileges. On April 17 — one day after the medical emergency at Routh Street Women's Clinic — a judge ordered that University General Hospital reinstate Ahluwalia's privileges, at least temporarily while the case moves through litigation.
Ahluwalia has a history of hospitals terminating his privileges. On June 22, 1996, the Texas State Board of Medical Examiners disciplined Ahluwalia for failing to adequately document two high-risk cesarean sections. Documents indicate that he also lost his hospital privileges after improperly managing high-risk pregnancies.
Operation Rescue previously reported that, according to statistics presented during a Fifth District Court of Appeals challenge to the Texas hospital privilege mandate, it is likely that nearly 1,000 women are hospitalized by Texas abortion clinics each year.
Further documentation obtained by Operation Rescue reveals that three 911 calls for medical emergencies were placed in just over a 30-day time period from Whole Women's Health of Austin, indicating that Texas abortion clinic has a poor track record when it comes to women's safety.
"Women's safety is simply not the first priority for abortionists, and hazardous conditions appear to be systemic throughout the abortion industry. There is a vast body of documentation that shows abortionists often succumb to the temptation to cut corners on emergency practices that endanger women's lives and health," said Operation Rescue President Troy Newman. "We urge Texas authorities to look into the April 16th medical emergency at the Routh Street Women's Clinic and determine whether state laws were broken or the woman's life was endangered by abortion clinic staff."
In a court challenge of a similar hospital privilege requirement in Mississippi, a declaration submitted by John Thorp, Jr., M.D. notes that hospital privileges make it more likely that abortionists can effectively care for patients. He stated that 73% of hospitals report inadequate on call coverage by specialists, especially Ob/Gyns. Dr. Thorp also concluded that hospital privileges prevents patient abandonment by itinerate physicians. Dr. Thorpe backed up his statements with impressive qualifications, including a 57-page Cirriculum Vitae.
Dr. Thorpe also recently testified on behalf of the local hospital privilege requirement in an ongoing Alabama court case that also challenges the mandate that abortionists maintain local hospital privileges in that state.
"We are confident that this safety requirement will survive these court challenges and will ultimately have the effect of protecting women from substandard practices by closing clinics," said Newman. "This will undoubtedly save the lives of babies and their mothers, and that's why we strongly support this common-sense law."