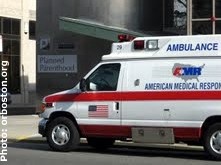 By Cheryl Sullenger
Boston, MA – A lawsuit filed on September 5, 2012, shows evidence that Planned Parenthood of Boston botched an abortion on a patient that caused her to be transported to a local hospital three hours later. This is the third known medical emergency at Planned Parenthood of Boston since January of last year.
According to the lawsuit, Melissa Cullen received a suction abortion at Planned Parenthood. Three hours after her release from the abortion clinic, Cullen blacked out from an "extreme loss of blood" and fell, hitting her face. She suffered a concussion, a sprained neck, two broken teeth, and a gash on her chin. She also claims to now suffer from Post Traumatic Stress Disorder.
After fainting, Cullen was transported to Massachusetts General Hospital where she was told by physicians that "the abortion had been done wrong" according to court documents, which were hand-written by the plaintiff. Cullen is seeking $100,000 in damages.
In separate incidents, pro-life activists documented ambulances transporting women from this same Planned Parenthood abortion clinic on January 7, 2011, and July 7, 2012.
Eleven abortionists are known to work at Planned Parenthood of Boston. The abortionist responsible for Cullen's abortion was not listed in court records.
This incident is the eleventh abortion-related medical emergency recorded at Planned Parenthood abortion clinics nationwide since January of last year. This includes the avoidable death of Tonya Reaves at a Chicago Planned Parenthood in July, 2012.
"It is clear to see that Planned Parenthood's mantra of safe, legal, and rare, is a fallacy. The reality is that women are being injured and killed at Planned Parenthood abortion clinics at an alarming rate. Since we know the incidents we have documented are only the tip of the iceberg, it becomes plain that abortion abuses at Planned Parenthood have reached epidemic proportions," said Troy Newman, President of Operation Rescue and Pro-Life Nation.
"Because of the dangers posed by Planned Parenthood, the largest supplier of abortions in America, the organization should not be supported with our tax dollars. Efforts to defund Planned Parenthood have fallen on deaf ears with President Obama, who has received millions of dollars in campaign contributions from them. Therefore, we must work to defeat Obama in November and replace his administration with one that has vowed to stop subsidizing Planned Parenthood with our tax dollars."
Read Cullen v. Planned Parenthood
View Greater Boston Planned Parenthood's profile page at AbortionDocs.org