Both abortion clinics are "repeat offenders"
By Cheryl Sullenger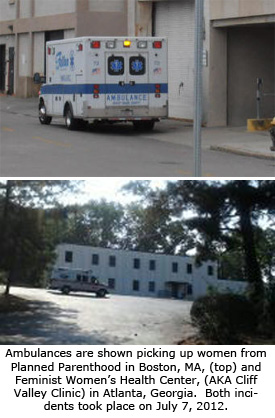 Atlanta, Georgia – Saturday was a particularly dangerous day for abortion-bound women in Massachusetts and Georgia as two abortion clinics in those states sent patients to local hospitals by ambulance. Both July 7 incidents were photographed by pro-life activists.
Around mid-morning, a Planned Parenthood security guard in Boston, Massachusetts, waived an ambulance around to the back of the abortion facility to pick up an abortion patient for emergency transport, according to Operation Rescue Boston. The condition of the woman is unknown.
This is not the first medical emergency at Boston's Planned Parenthood. On January 7, 2011, pro-life activists documented a similar incident, which was reported by Operation Rescue.
Meanwhile, an ambulance responded to the Feminist Women's Health Center (FWHC), also known as the Cliff Valley Clinic, in Atlanta, Georgia, at about 10:00 a.m. This is the fourth such incident at this abortion clinic this year. According to long-time pro-life activist Michelle Wolven, ambulances were called to this same clinic in February, March, and April of this year. Shockingly, information obtained from the EMS Dispatch Department for Dekalb County, ambulances were called to FWHC for botched abortion victims five times last year.
"Both of these abortion clinics are repeat offenders. This and other documentation reveals a pattern of abortion abuses that are injuring women, often at an astounding rate, as we see in Atlanta. These clinics are proven to be dangerous and should be closed. Multiple complaints have been filed against these clinics, but authorities in these states have been slow to act, which only places women in additional jeopardy," said Troy Newman, President of Operation Rescue and Pro-Life Nation.
"Incidents like this reveal a national scandal that the mainstream media is loath to cover. Abortion clinics across the nation are dangerous places that injure patients and ignore laws that were enacted to protect women. Thanks to increasingly sophisticated pro-life activists and the Internet, the truth about shoddy abortion practices is finally getting to the public."
For further documentation on abortion abuses, please visit AbortionDocs.org.