By Cheryl Sullenger
Flossmoor, IL – Two ambulances were called to the Planned Parenthood abortion facility in Flossmoor, Illinois, on consecutive days for women who were injured by botched abortions.
During the first incident, which took place on May 7, 2020, a private ambulance was called.  Video provided to Operation Rescue by a local pro-life activist showed a woman on a gurney as she was removed from Planned Parenthood's rear entrance.  She was loaded into an ambulance from Bud's Ambulance Services. Because this company is private and was likely directly called, no 911 records were available.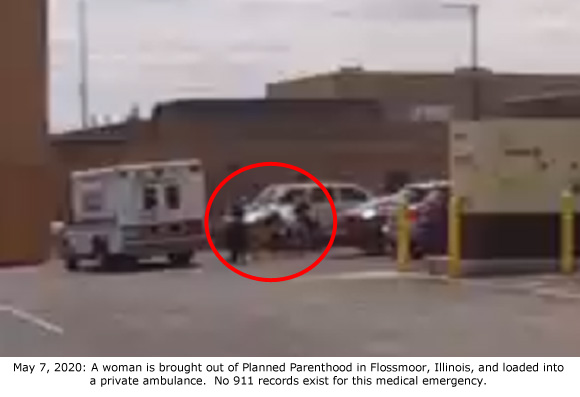 Bud's Ambulance Service is located in Dalton, Illinois, which is 9.9 miles from Flossmoor.  Normal driving time without lights and sirens, which appeared not to be in use during the emergency, is 22 minutes – a long time to wait for help.
The next day, May 8, another medical emergency resulted this time in a call to 911 and the dispatch of a Flossmoor ambulance to the Planned Parenthood abortion facility.  The ambulance ran with lights flashing, according to another video clip from the scene.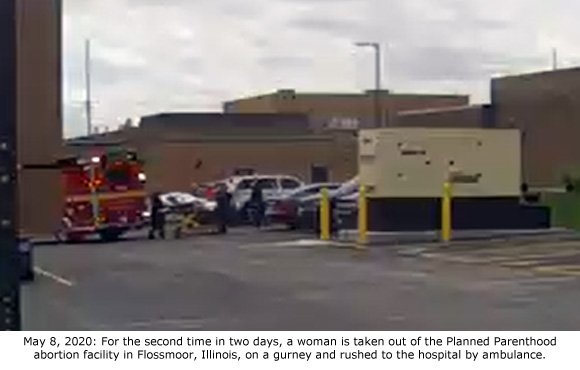 Operation Rescue obtained the 911 recordings of the call and the CAD printout, which showed that it took the Flossmoor ambulance just seven minutes to arrive at the scene from the time the call was placed, in contrast to the 22 minutes it took Bud's Ambulance to respond.
During the call, a Planned Parenthood worker used a term to describe the woman's injury that was unknown to the 911 dispatcher.
PP:  We have a patient during a procedure. Possible Perf. 911:  What? I'm sorry. PP: Possible uterine perforation.
"The use of the abbreviated term for 'perforation' seems to imply that this kind of injury has happened often enough that a slang term was developed for it," said Newman. "In fact, I have seen this injury mentioned frequently in many 911 records that have crossed my desk."
A uterine perforation is a life-threatening injury that occurs when the abortionist pushes abortion instruments through the womb and into the abdominal cavity, causing a hole or tear in the uterus.  It can result in hemorrhage as well as damage to other internal organs.  Perforations require surgery to repair.
Women have died from such an injury, including Cree Erwin Shepard, who perished in 2016 as a result of an untreated uterine perforation she received during an abortion at the Planned Parenthood abortion facility in Kalamazoo, Michigan.
Since the Flossmoor Planned Parenthood opened on January 11, 2018, at least four medical emergencies have hospitalized women after suffering abortion complications.  Other incidents occurred on November 12, 2019, and December 14, 2018.  Both women suffered uncontrolled hemorrhaging after botched abortions.
"No matter what Planned Parenthood says, abortions are not safe.  We have documented hundreds of life-threatening injuries at abortion facilities and dozens of maternal deaths that prove abortion is not safe for women," said Operation Rescue President Troy Newman.  "Planned Parenthood needs to stop lying about the dangers of abortion to the American people."
To learn more about other abortion-related medical emergencies at abortion facilities nationwide, visit www.Abortion911.com.