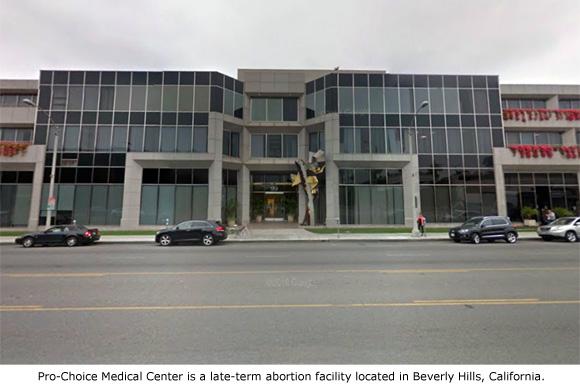 By Cheryl Sullenger
Beverly Hills, CA — July 2018, was a particularly troubling month for the Beverly Hills "Abortionist to the Stars," Josefa Seletz. Two ambulances were summoned to her Pro-Choice Medical Center, an upscale late-term abortion facility on LaCienga Boulevard for patients that were each transported to Cedars Sinai Hospital for treatment Seletz could not offer at her ill-equipped "doctor's office" type of clinic.
The first incident took place on July 3, 2018, at 2:12 p.m. when a 911 call was placed for emergency medical assistance. An ambulance was dispatched to provide Advanced Life Support, indicating the patient's condition was serious in nature. Documents obtained by Operation Rescue note that the patient suffered vaginal bleeding and required hospitalization.
The second incident took place on the evening of July 10 at 6:36 p.m. for a woman who had an abortion. Advanced Life Support was also required to treat her abortion complication.
While the paperwork told the story of serious abortion complications, the 911 recordings released by the City of Beverly were almost completely redacted.
Heavily redacted 911 call from July 3, 2018:

Heavily redacted 911 call from July 10, 2018:

"We know women are being hurt at this late-term abortion facility and when public resources are used to care for these injured women, the public has the right to know. We expect patient names, addresses, and birthdates that may identify them to be redacted, but all other information has traditionally been public record," said Troy Newman, President of Operation Rescue. "Preventing the public from accessing this information actually places women at risk. Without it, women have no way of knowing just how dangerous this abortion facility really is."
So far in 2018, there have been four abortion-related medical emergencies at the Pro-Choice Medical Center. That is troubling because it appears Seletz's complication rate is rising. Since the fall of 2015 through 2017, there were five documented instances where women were transported from her office to Cedars Sinai Hospital, where Seletz maintains hospital privileges.
"Because Seletz conducts abortions throughout all nine months of pregnancy, we are concerned about the safety of women and the late gestational age of babies being aborted," said Newman. "She aborts late-term babies using the high-risk Induction Abortion method. Often, these babies are viable and could survive if allowed to be born. This barbarity must not be allowed. I call on the California Medical Board to fully investigate Seletz's dangerous abortion business and shut it down in order to protect the public."
While Operation Rescue opposes all forms of abortion, the late-term variety is especially heinous due to the fact that babies after 22 weeks have a very high probability of survival outside the womb. These abortions also pose a particular danger to the lives and health of the mothers. Patient deaths from such abortions have been documented.
– View documents for July 3, 2018, emergency.
– View documents for July 10, 2018, emergency.
– Read about other medical emergencies at the Pro-Choice Medical Center at Abortion911.com.
– Learn more about the Induction Abortion method.