By Cheryl Sullenger
Santa Cruz, CA – Two units of paramedics responded to the Westside Health Center Planned Parenthood on Friday, March 3, 2017. This represents the 22nd time ambulances have rushed to a Planned Parenthood abortion facility since January, 2016.
Fire Department paramedics entered the Planned Parenthood office with a rolling stretcher, but soon returned it empty to their ambulance unit. Later, the patient was taken out to the sidewalk in front of Planned Parenthood where she was seen signing papers for the paramedic team after she refused ambulance transport.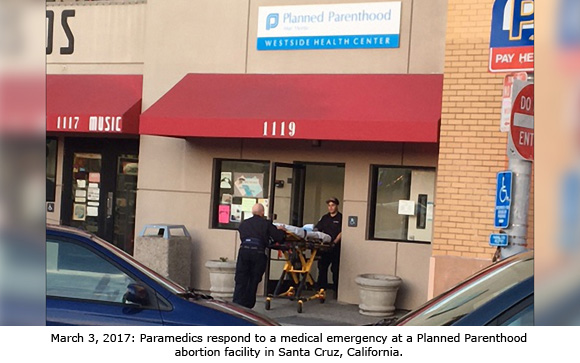 While this woman's condition was apparently not life-threatening, other women have not been so fortunate.
Some women who have died from Planned Parenthood abortions in recent years include:
• Erica Goode was just 21 when she died from a massive infection contracted during an abortion at a Riverside, California, Planned Parenthood abortion facility in 2007.
• Tonya Reaves, 23, suffered a uterine perforation during an abortion at a Chicago, Illinois, Planned Parenthood in 2012. She was left to bleed internally for over five hours before being transported to a hospital where she died.
• Cree Erwin, 24, died from abortion complications in 2016, just three days after a surgical abortion resulted in a uterine perforation at Planned Parenthood in Kalamazoo, Michigan.
Other women have been hospitalized suffering from hemorrhaging, seizures, and other serious medical issues. (Watch a video revealing 18 medical emergencies at Planned Parenthood since January 2016.)
"Whether women are injured a little or a lot, Planned Parenthood poses a very real danger to women," said Troy Newman, President of Operation Rescue. "I'm tired of reading autopsy reports and listening to 911 calls about women who are bleeding out, in cardiac arrest, or suffering some other horrible injury. Abortion is immoral because it takes the innocent lives of precious babies and because it causes harm – sometimes deadly harm — to the mothers. The barbaric practice of abortion must be abolished once and for all."
Operation Rescue supports Congressional efforts to defund of Planned Parenthood, the prosecution of criminal referrals made by both the U.S. House and Senate against Planned Parenthood.

View Westside Health Center Planned Parenthood' profile on AbortionDocs.org.