By Cheryl Sullenger
Springfield, IL – Pro-life activists with Springfield Right to Life have reported that an ambulance was called to the Springfield, Illinois, Planned Parenthood abortion facility on November 19, 2020.
Video posted on the group's Facebook page showed an EMS crew wheeling a woman out of the abortion facility on a gurney and loading her into an awaiting ambulance, which transported her to an unknown hospital for emergency care.
Operation Rescue requested 911 records and received a redacted NFIRS report that verified the medical emergency at Planned Parenthood, and that an ambulance with Advanced Life Support capabilities was dispatched.  Information about the patient's possible condition was redacted.
However, a garbled radio dispatch audio clip was obtained that noted an 18-year old woman fell, hit her head, and was "not alert" at the time the dispatch was made.
Springfield Right to Life reported that the incident took place on an abortion day at Planned Parenthood.  During days when surgical abortions are done, it is common practice at abortion facilities for that to be the only service available.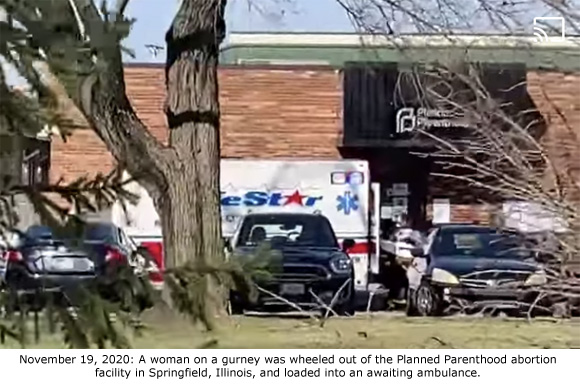 It's not unusual for women to fall while still woozy from sedation or even blood loss after an abortion.
In an extreme example, Jaime Lee Morales, 30, reported to a now-shuttered abortion facility in Flushing, New York, in July 2016, for a second trimester abortion.  During the procedure, her uterus was perforated and her uterine artery was lacerated.  After her bleeding failed to subside, she was taken into the procedure room for a second abortion.  Once in recovery, Morales went into the restroom and passed out, hitting her head on the counter. Even though Morales was still drifting in and out of consciousness, she was released to her sister.  Morales died from internal bleeding hours later.
While the head-strike did not cause her death, it was an indication that something was terribly wrong. In her case, the warning sign was ignored.  Her abortionist, Robert Rho, was arrested and pleaded guilty to Criminal Negligent Homicide during his trial and is currently serving a sentence of up to 4 years in a New York State Prison.
"A fainting spell and head strike can be serious enough in itself, but when it is abortion-related, it is even more cause for concern," said Operation Rescue President Troy Newman. "Abortion is not safe and this is another incident that supports that claim. Anyone who says otherwise is just parroting agenda-driven fake news talking points from the Abortion Cartel."