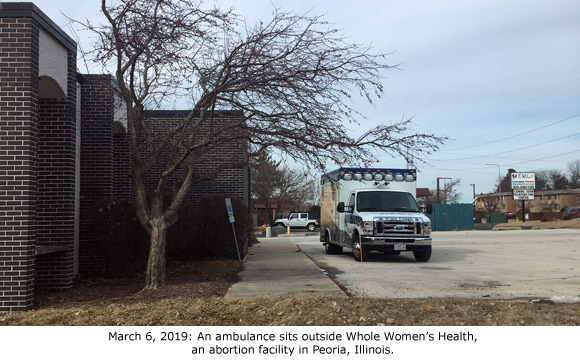 The dispatcher made one more valiant effort to ascertain the woman's condition by asking if she was hemorrhaging. The abortion worker's response exposed the fact that she did indeed know what kind of medical emergency the woman was experiencing. "No, she's just having complications," she said. Finally giving up, the dispatcher sent the ambulance to the abortion business. "There was obvious that the abortion clinic worker was covering up something she thought would be detrimental to the abortion clinic's reputation. They put their abortion business first and their patient last," said Troy Newman, President of Operation Rescue. "It should be illegal to conceal information from 911 dispatchers." The Whole Women's Health abortion facility in Peoria took over the abortion facility from National Health Care in May 2015. It's most
recent inspection
, conducted on March 23, 2018, by the Illinois Department of Public Health, resulted in 28 pages of citations that reinforce concerns about the dangers posed by this abortion facility.  Citations included the following:
Failure to maintain proper credentialing documentation on staff.
Failure to ensure that abortions were done by qualified physicians (affecting an average of 44 abortions per month at the time of the inspection).
Failure to ensure that IV sedation was done by qualified physicians.
Failure to ensure that the Medical Director and all physicians held full admitting privileges at a hospital within a travel time of 15 to 20 minutes.
Failure to ensure that obstetric ultrasound results were read by qualified physicians.
Expired drugs and failure to properly date and label drugs.
Failure to store syringes in a manner that would prevent cross-contamination.
Failure of at least one physician to review medical histories, ultrasound, and consent forms prior to dispensing abortion drugs via the telemedicine (webcam) abortion process.
Failure to ensure informed consent accurately reflected patient instructions.
Failed to ensure the facility's "Standing Orders" were up to date and authenticated.  These orders were related to the use of abortion-inducing drugs.
Failure to ensure that orders to dispense abortion-inducing drugs were signed by a qualified physician.
Since then, Whole Women's Health has surrendered its facility license to avoid further inspections. In Illinois, if surgical abortions comprise less than 50 percent of the abortion clinic's business, it is not required to be licensed. Whole Women's Health dispenses enough abortion-inducing drugs to fall below the licensing threshold. "Whole Women's Health is a shoddy abortion chain that has expanded into several states without ensuring that minimum standards are maintained," said Newman.  "We consider every Whole Women's Health abortion facility in the U.S to be a corners-cutting, sloppy operation that is too dangerous to operate. Whole Women's Health currently operates abortion facilities in Illinois, Maryland, Minnesota, Texas, and Virginia.

View 911 CAD printout

.

By Cheryl Sullenger Peoria, IL – When an employee from Whole Women's Health, an abortion facility in Peoria, Illinois, called 911 for emergency help, it appeared to be a routine call.  But once the dispatcher began asking questions, the call took a serious, and potentially dangerous turn. A recording, computer aided dispatch transcript. and photos of the incident were provided to Operation Rescue by the Pro-Life Action League. The call was for a 32-year old woman who needed "assistance." When asked what kind of assistance, abortion worker said, "She needs a transport to the emergency room." The dispatcher asked again what was wrong with the woman. "She needs to go to the emergency room.  I'm not sure other than that," she responded, leaving the dispatcher somewhat flustered. For a third time, the dispatcher asked what was going on with the patient.  Was she conscious? Was she breathing? Was she having chest pains? Again, the clinic worker refused to answer except to say that the patient needed to go to the hospital emergency room. "Is there any way you can find out? I mean, that is our protocol to ask questions to find out how fast they need to come," the dispatcher explained. "But I also know we are an abortion clinic and it will be posted all over the internet," the Whole Women's Health worker said.