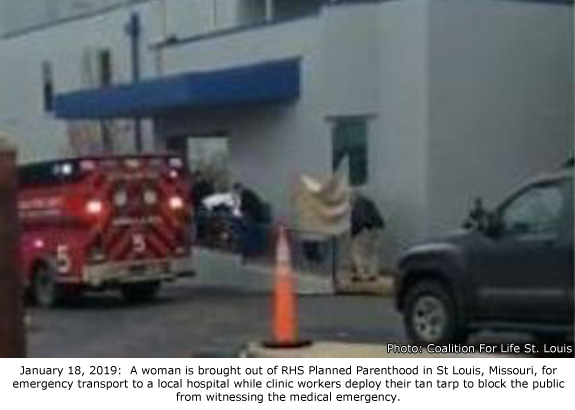 By Cheryl Sullenger
St. Louis, MO – Fridays are busy days at Reproductive Health Services Planned Parenthood in St. Louis, the last abortion facility in Missouri, and pro-life groups like the Coalition for Life St. Louis like to make sure their teams are on hand to offer practical assistance and love to abortion bound women.
But on Friday, January 18, 2019, since most of the Coalition for Life staff were in Washington. D.C. to participate in the annual March for Life, just a few pro-life activists arrived to stand vigil at the imposing Planned Parenthood facility.
And it's a good thing they were there.
"About 11:45am [January 18, 2019], our sidewalk counselors were on duty, working to save lives," reported Maggie Tebeau of the Coalition for Life in an e-mail. "The normal sounds of Forest Park Ave. were disrupted as sirens blared, and both an ambulance and firetruck approached. The sirens were silenced as the ambulance pulled in, and both crews swiftly entered the abortion facility."
Tebeau went on to describe how a woman was removed from the Planned Parenthood abortion facility.
"The patient was entirely in the prone position, completely covered with a sheet, and unmoving," wrote Tebeau.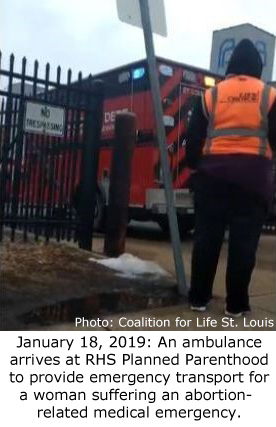 Planned Parenthood sent workers out with their usual tan tarp to block the public from witnessing or documenting the incident. The woman was soon transported to a local hospital for emergency care that the abortion facility could not provide.
Just four days earlier, Operation Rescue had published a list of medical emergencies that resulted in serious abortion injuries at RHS Planned Parenthood, which were obtained in response to a public records request.
"Without the faithful watchfulness of local pro-life groups, we would never know about these women injured at Planned Parenthood," said Troy Newman, President of Operation Rescue. "The truth that abortion isn't safe — for women and obviously for their babies — must be told."
Over the course of the past two years, the St. Louis Fire Department was dispatched to RHS Planned Parenthood to provide emergency medical assistance and transport for seven "problems" that included four incidents of hemorrhaging – one involving a woman who was unresponsive at the time of the call.
In total, there have been at least 71 medical emergencies documented at RHS Planned Parenthood since 2009 – with the possibility of perhaps three more that either evaded the watchful eyes of local pro-life activists or were not included in lists provided by the St. Louis Fire Department because a private ambulance service was used.
Thankfully, RHS Planned Parenthood has not been conducting abortions on Saturdays – previously their busiest abortion day – for the past couple of months or so, according to Mary Maschmeier, Founder and President of Defenders of the Unborn, another St. Louis-based pro-life group.
But that hasn't stopped Planned Parenthood from injuring women.
"We consider the Planned Parenthood in St. Louis the worst abortion clinic in America. It has a abysmal sanitation record, according to the failed inspection reports we have seen. And the dozens of emergency transports of seriously injured abortion patients is extremely troubling," said Newman. "We pray that Planned Parenthood will be held accountable by oversight agencies in Missouri. In order to protect the public, this dangerous abortion facility must be closed."