By Cheryl Sullenger
Cleveland, OH – An ambulance was called to Preterm, a Cleveland, Ohio, abortion facility on Friday, September 30, 2017, to transport an injured woman to the emergency room.
This is the fourteenth documented ambulance transport of a Preterm patient in the past seven years.
The ambulance rolled up to Preterm at approximately 2:00 p.m. Responders were apparently in such a great hurry to get to the injured woman that they left the back doors wide open on the unattended ambulance during the ten minutes they were inside the abortion facility.
Local pro-life activist Fred Sokol snapped a series of photos as the African-American woman was brought out and loaded into the ambulance.
Sokol told Operation Rescue that the woman was clothed only from the waist up and was awake, but appeared to be in a great deal of pain.
The EMTs continued treating the woman at in the ambulance for approximately 10 more minutes before rushing away with lights and sirens running.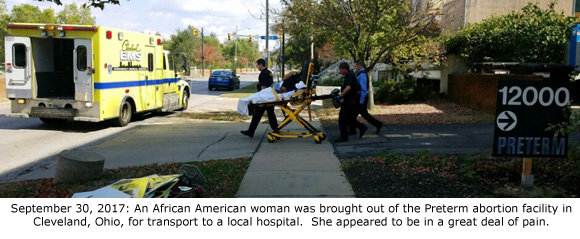 Witnesses report that the abortionist on duty that day was Mitchell William Reider, who also works as an abortionist at Planned Parenthood facilities in the Cleveland area.
In 2014, Lakisha Wilson, 22, died after receiving a botched abortion at Preterm. Pro-life activists from state and national organizations sought disciplinary action against her abortionist, Lisa Perriera, but the Ohio Department of Health refused to act. Months later, Perriera was hired on by Planned Parenthood Keystone in Pennsylvania, and given an award and a promotion.
"This abortion facility is a menace to the public. We hope the woman will be alright, but something must be done by the Ohio Department of Health to eliminate the life-threatening risk to women that Preterm poses," said Troy Newman, President of Operation Rescue.
Incidentally, as another pro-life activist, Frank Kosmerl prayed outside Preterm the following day, a traffic accident occurred in front of the abortion facility, causing Kosmerl to dive to the pavement to avoid being hit. He phoned Operation Rescue from the emergency room, where he was taken for minor injuries he received.
But Kosmerl wasn't concerned about himself. He was rejoicing because the accident hit a pole and knocked out power to Preterm, so the facility was forced to halt abortions.
Kosmerl's injuries were minor and he is expected to make a full recovery.