By Cheryl Sullenger
Cleveland, OH — For the twentieth time in the past ten years, a woman was transported to a hospital emergency room from the Preterm abortion facility in Cleveland, Ohio.
The most recent abortion-related medical emergency took place on Friday, July 16, 2021, when an ambulance was called to Preterm for a 24-year-old woman who was suffering from "extreme hyperemesis," a condition where pregnant women vomit to the point of weight loss and/or dehydration, according to 911 records obtained by Operation Rescue.
"The Preterm caller was acting strangely, as if she was reading from a script when she was describing the initial condition of the woman and using terms to disguise the nature of her emergency," said Troy Newman, President of Operation Rescue.  "Given that suspicious behavior, it is likely that her condition was related to the abortion, rather than the pregnancy."
Pro-life witnesses on the street at the time of the emergency photographed the scene and provided those photos to Operation Rescue.  According to multiple witnesses, the woman was brought out of Preterm in a wheelchair, then secured into the ambulance for transport.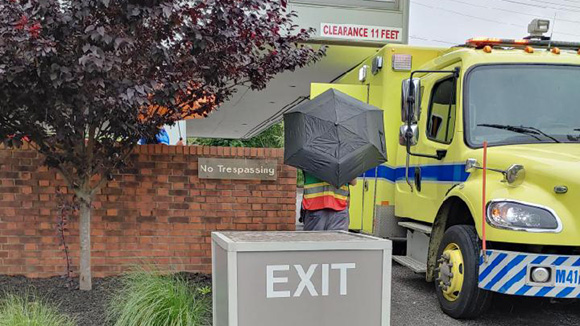 A member of Preterm's so-called "escort" team, wearing a rainbow-colored vest, attempted to block attempts to record the incident with a large umbrella.
Preterm announced on June 4, 2021, the hiring of Jen Moore Conrow as the new Executive Director of Preterm.  This is the first known medical emergency under her administration.
According to an announcement on Preterm's website, Conrow "oversaw the residency and fellowship education programs that trained the next generation of abortion providers, including nurses and advanced practice clinicians. In this role she also grew the program and expanded its clinical operations to new hospital sites."
Preterm is the training site of a Kenneth J. Ryan Residency Training Program in Abortion and Family Planning, which is affiliated with the Bixby Center for Global Reproductive Health at the University of California San Francisco.  These programs are the fruit of a globalist depopulation agenda and are funded by the likes of the Bill and Melinda Gates Foundation, along with a host of other foundations and groups that promote abortion worldwide.
"Preterm is a politically powerful independent abortion facility that has escaped accountability for at least 20 injured women, including Lakisha Wilson, 22, who died from a botched Preterm abortion in 2014," said Newman.  "As of late, Ohio has given plenty of lip-service to the concerns of pro-life supporters, but when it comes to taking meaningful action to close dangerous abortion facilities, the state has acted to prevent their closures.  These abortionists need to be held accountable by the state, not protected by it."