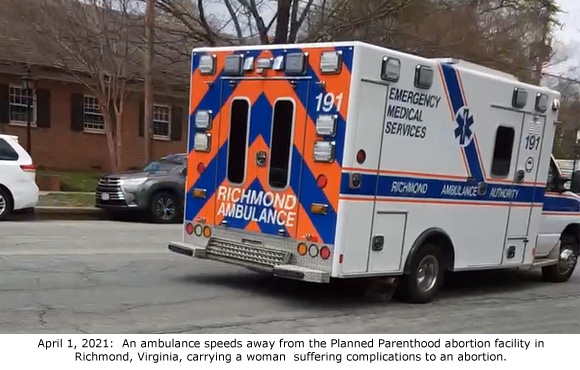 By Cheryl Sullenger
Richmond, VA – An ambulance responded to a medical emergency at the Planned Parenthood abortion facility in Richmond, Virginia, on April 1, 2021. Abortions were being done at the facility that day.
According to an eyewitness:
[An] African American lady drove out of Planned Parenthood with a woman leaning all the way down in the passenger seat. . . After about 5-10 minutes, they came back. I remember seeing the look on the woman that was driving.  She looked distraught. . . we figured something was wrong. Shortly after, an ambulance arrived. Then fire truck.
The woman suffering the medical emergency was transported to an unknown hospital by an ambulance from the Richmond Ambulance Authority.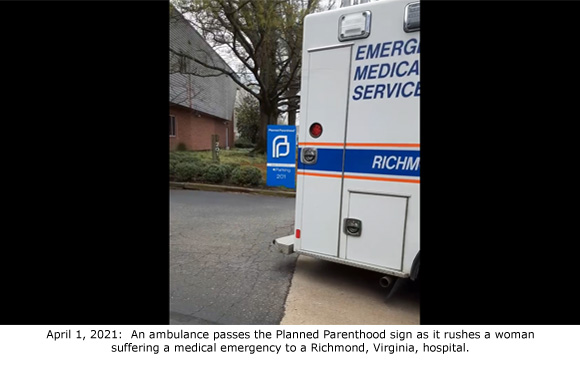 Operation Rescue was denied access to public 911 records because Richmond only fulfills public records requests for residents of Virginia.
"From what little we know, a woman suffered an apparently serious medical emergency following an abortion at Planned Parenthood.  Unfortunately, this situation is an all-too-common occurrence at Planned Parenthood and other abortion facilities across America," said Operation Rescue President Troy Newman.  "Since January 2019, we have documented nearly 200 medical emergencies, including two maternal deaths at abortion facilities in the U.S.  We know that is just a miniscule fraction of the women who suffer serious abortion complications because many make their own ways to emergency rooms after they leave the abortion facilities.  This is further documentation that abortion is not safe, no matter what spin Planned Parenthood may be pushing."