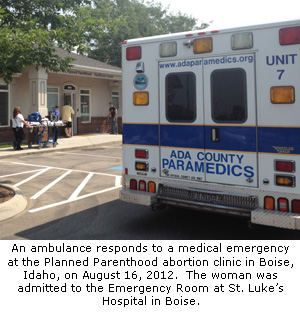 By Cheryl Sullenger
Boise, ID – An ambulance arrived at the Planned Parenthood abortion clinic in Boise, Idaho, this afternoon and transported a woman to St. Luke's Hospital in Boise where she was admitted to the Emergency Room. The cause of the medical emergency and condition of the woman is currently unknown; however, activists confirm that abortions were performed today at that Planned Parenthood facility.
Pro-life activists documented the incident with photos and video.
This incident comes less than a month after 24-year old Tonya Reaves died from hemorrhage after receiving an abortion at a Planned Parenthood abortion clinic in Chicago. Just four days after Reaves' death, Pres. Barack Obama made comments on the campaign trail supporting Planned Parenthood and calling efforts to halt tax-payer funding of the abortion giant "a bad idea."
"Mr. President, yet another woman has been hospitalized after a visit to Planned Parenthood. We ask that instead of shamelessly promoting your campaign contributor, Planned Parenthood, that you show some human compassion for the plight of the vulnerable pregnant women they are harming and stop supporting and funding them," said Troy Newman, President of Operation Rescue and Pro-Life Nation.
"This is more evidence that Planned Parenthood is out of control and posing a serious threat to the lives and health of women nationwide. This is the eleventh medical emergency documented by Operation Rescue at Planned Parenthood abortion clinics in the past 18 months."
Planned Parenthood has been racked with scandal in recent months. Whistleblower suits filed by former Planned Parenthood employees in California, Texas, and Iowa allege massive billing fraud as several affiliates have been forced to close due to financial malfeasance. There was public outcry after documentation surfaced that Planned Parenthood specifically targets minority communities, especially Blacks, for abortion. A Planned Parenthood affiliate in Kansas faces criminal charges for illegal late-term abortions.
"We are especially concerned for the safety of women at the Boise Planned Parenthood after today's incident. We will work together with other activists in Idaho to ensure that this incident is thoroughly investigated by the proper authorities," said Newman.