By Cheryl Sullenger
Germantown, MD – Operation Rescue has obtained a heavily redacted copy of a 911 call placed on July 9, 2013, from Germantown Reproductive Health Services in Germantown, Maryland, for an abortion patient that was suffering from heavy bleeding.
In what appeared to be an over-redaction of public information, questions concerning the nature of the medical emergency were deleted from the 911 recording by the Montgomery County Office of the Fire Chief. Operation Rescue was denied access to the written Computer Aided Dispatch report that generally accompanies 911 recordings and gives additional information about emergency response times, units dispatched, and the condition of the patient.
In spite of the heavy redactions, the recording indicated that a 35-year old woman was bleeding seriously enough to require transport to a hospital emergency room.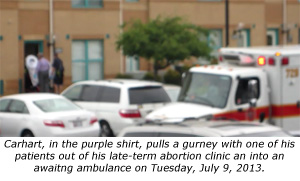 A local activist caught LeRoy Carhart on video wheeling the injured woman out of the abortion clinic and into an awaiting ambulance. That video, published by Operation Rescue, prompted coverage by national news outlets, including Fox News.
It appeared that the abortion clinic worker that placed the 911 call, who identified herself as "Ashley," attempted to minimize the patient's injuries by evading a question about the seriousness of the bleeding.
"Uh, we have it under control but it's a little more than the doctor would like," the caller said.
"That response was completely contradictory and never directly answered the dispatcher's question," said Troy Newman, President of Operation Rescue. "If the bleeding was under control, why did the woman require emergency medical intervention and transport? This kind of obfuscation can cause a delay in necessary emergency treatment since the responders are not given an accurate picture of the patient's true condition. The danger is compounded by the fact that Carhart has no hospital privileges whatsoever."
This is the second known serious abortion complication suffered by Carhart patients this year. On February 7, Jennifer Morbelli died from complications to a 33-week abortion. Carhart had left town and could not be reached by family or emergency room physicians when her condition deteriorated. This left hospital staff in the dark about her condition and previous treatment, which delayed their ability to treat her.
On March 31, 2012, another 911 call placed this time from Carhart's Bellevue, Nebraska, abortion clinic revealed moans and screams coming from an abortion patient. The caller also evaded answering questions about the patient's condition.
In 2005, 19-year old Christin Gilbert died from complications of a third trimester abortion that were very similar to those suffered by Jennifer Morbelli. The 911 call from that incident revealed a 45-second delay while the caller placed the dispatcher on hold, then refused to answer any questions about the condition of the patient.
"Given the pattern of non-responsiveness from Carhart's clinic workers, we have to wonder if they have been trained to minimize and down-right conceal the true nature of abortion patient's injuries, even if the women are dying," said Newman. "This is yet another indication that Carhart poses a danger to the public and should not be allowed to practice medicine."
Operation Rescue is filing a complaint with the Maryland Board of Physicians (MDBP) concerning this latest incident.
This is the fourth complaint filed by Operation Rescue against Carhart with the MDBP. The first complaint resulted in a letter of admonishment that was added to Carhart's file for lying on his Maryland license application in 2011. The second complaint was related to illegal dumping of medical waste discovered at Germantown Reproductive Health Services last year, but was dismissed because Carhart is an independent contractor who takes no responsibility for actions of the clinic. The third complaint related to Jennifer Morbelli's death remains open.
To add to Carhart's troubles, Nebraska Attorney General Jon Bruning announced in May that Carhart's only nurse, Lindsay Creekmore, faces license revocation for improperly drugging patients and engaging in unprofessional conduct that endangered the lives and health of Carhart patients. A disciplinary hearing in that matter is set for early November.
"Carhart is responsible for the deaths of two women and for seriously injuring others. His body count will only continue to rise unless the Maryland Board of Physicians takes swift action to protect women from his butchery," said Newman. "As far as we are concerned, because of the reticence of the Maryland Board to act, they already have blood on their hands."
TAKE ACTION: Please contact the Maryland Board of Physicians and ask for an emergency suspension of Carhart's medical license so keep him from hurting or killing more women with his substandard abortion practices.
Contact Information:
Maryland Board of Physicians
Voice: (800) 492-6836 or (410) 764-4777
E-mail: mbpmail@rcn.com