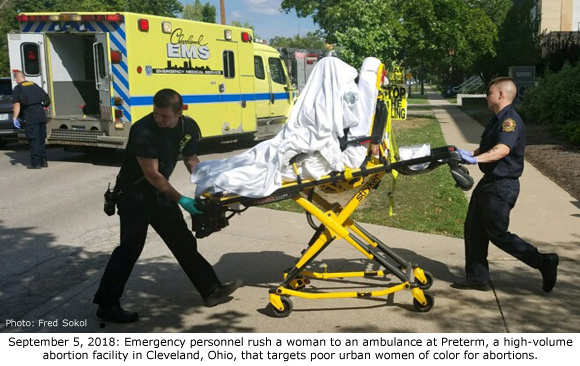 By Cheryl Sullenger
Cleveland, Ohio – An Ohio abortion facility that has been been responsible for numerous life-threatening botched abortion emergencies, including the 2014 death of Lakisha Wilson, has hospitalized another patient.
Pro-life activist Fred Sokol, who routinely offers help to abortion-bound women on the sidewalks outside the troubled Preterm abortion facility in Cleveland, witnessed and photographed the medical emergency as it took place on September 5, 2018.
Operation Rescue has confirmed that a fire unit and ambulance responded to a 911 call placed at approximately 3:30 p.m. A woman was removed from Preterm on a gurney completely covered with a sheet, even though the heat index was around 100 degrees.
A clinic employee dressed in surgical scrubs accompanied the patient in the ambulance as she was transported to the hospital.
While the Ohio Department of Health has worked to close down or fine other dangerous abortion facilities, Preterm has appeared to have gotten a free pass.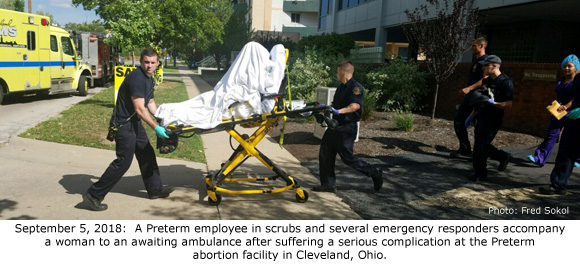 Pro-life groups from Ohio and around the nation unsuccessfully called for the State to shut down Preterm after the death of Lakisha Wilson in 2014, who hemorrhaged and stopped breathing during an abortion in her 20th week of pregnancy. The Department of Health's own records, leaked to Operation Rescue, showed it ignored discrepancies in Wilson's abortion timeline – including how long she gone without breathing before a 911 call was finally placed.
Those records also showed that a faulty elevator delayed paramedics from reaching the dying woman on the facility's third floor, where all abortion procedure rooms are located. Because Preterm's frequently malfunctioning elevator is too small to accommodate a flat gurney, Wilson could not be intubated until she had been completely extracted from the building. These delays likely contributed to Wilson's death.
In another incident, because the elevator was not working, a nearly 300-pound woman who was hemorrhaging in the immediate wake of an abortion had to be hand-carried from the third floor down a stairwell where she was finally placed on a gurney then wheeled out to an ambulance.
Details of ten other botched abortions at Preterm can be found in a special report published by Operation Rescue in 2015. Since then, a half dozen other medical emergencies have been documented at that facility.
"The frequency of life-threatening medical emergencies that have been documented at Preterm, along with an inadequate elevator system that has often delayed emergency medical care for injured women should pose a serious enough danger to the public to justify the closing of this facility," said Operation Rescue President Troy Newman. "How high does the body count need to get before the Ohio Department of Health acts to protect women?"
Preterm's political affiliations, including the powerful University Hospital Case Medical Center and the San Francisco-based Ryan Residency Abortion Training Program, which is funded by a foundation operated by the Warren Buffett family, appear to have insulated Preterm from any negative regulatory consequences.
"Should this abortion facility with its long list of serious abortion injuries and a patient death really be training other abortionists to follow their shoddy example?" asked Newman.
Despite their ongoing pattern of patient hospitalizations, Preterm has brazenly engaged in the aggressive promotion of its dangerous abortion business to the public. Earlier this year, Preterm raised controversy by buying a series of 16 billboards located throughout the Cleveland area with slogans such as "Abortion is a blessing" and "Abortion is a family value." Preterm targets primarily poor urban women of color for abortions.
"I doubt if learning their daughter was dead from a botched Preterm abortion was much of a blessing to the Wilson family, or if 'family values' really includes a stack of dead babies," said Newman. "No matter how much this politically protected abortion business tries to shift the narrative or indoctrinate the public, the truth remains that evidence shows it is too dangerous to operate. This latest medical emergency is just another tragic case in point."

Report incidents like to to us!