By Cheryl Sullenger
Chicago, IL – Emergency 911 records received by Operation Rescue reveal that two women were hospitalized within three days of each other last March after having abortions at Family Planning Associates Medical Group (FPA) in Chicago, Illinois.
The Pro-Life Action League initially obtained the 911 records and released them to Operation Rescue for publication.
Both women suffered from bleeding so serious after their abortions that clinic staff called 911 for emergency help.
"This Family Planning Associates abortion facility has a long history of medical malpractice related to botched abortions," said Troy Newman, President of Operation Rescue. "Women need to be warned that abortion is not as safe as the Abortion Cartel would have us believe. The way these two incidents were downplayed by the clinic workers indicates they are highly motivated to cover up incidents where women are injured and hospitalized. This is a pattern of deception that exists not only at this abortion facility, but at abortion clinics around the nation. They don't want the public to know the truth."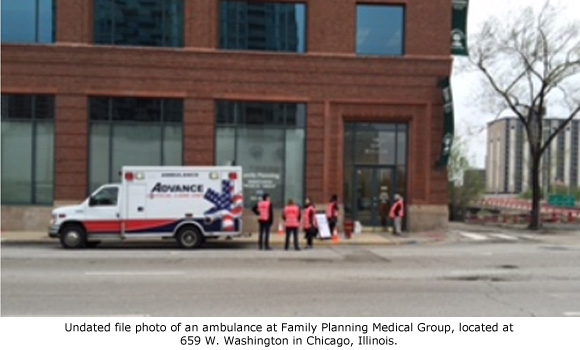 The first call was placed on March 21, 2018, at 10:08 a.m. by an FPA employee who seemed inappropriately cheery, considering one of their patients – who was just 18-years old — was in the throes of a medical emergency.
The perky caller told the 911 dispatcher, "We have a patient who's having a post-operative complication and we were hoping to get an ambulance."
When questioned concerning the nature of the complication, the caller was somewhat evasive. After some hesitation, she admitted that the young woman was suffering uterine bleeding. At first the dispatcher misunderstood this to be a problem breathing, but the caller promptly corrected her and repeated that the woman was bleeding and that a "Foley" had been "put in."
The abortion clinic employee was referring to a Foley catheter, which is primarily used to drain a bladder.  Doing so would supposedly ease pressure on the uterus and reduce the bleeding.
The fact that a Foley catheter was being used indicates this woman was suffering a life-threatening medical emergency.
The second 911 call was placed on March 24, 2018, at 8:33 a.m. by a more mature-sounding clinic worker. Again, the situation described appeared to be dire, yet the caller still attempted to downplay it.
"Hi, this is . . . [redacted] . . . Family Planning Associates. We [have] a patient that we need to transport to Northwestern Hospital. Our doctor will ride along with her. She's a post-surgical patient that's having a bit of a bleeding issue."
Again the 911 dispatcher confused the word "bleeding" with "breathing." The caller confirmed that the 23-year old patient was bleeding but was awake and breathing.
At the end of the audio recording, it appears that the FPA abortion facility was called back by another dispatcher or possibly personnel from the police or fire department. There seemed to be a question of whether additional personnel needed to ride along with the ambulance.
"Ma'am, do you have protesters outside?" the new voice asked the clinic worker.
"We do, yes," the clinic worker responded.
No further information was given regarding either incident. It is assumed that both hemorrhaging women were transported to the hospital and treated there.
It is unknown what abortionists were on duty at the time of these incidents, but Operation Rescue has confirmed that three abortionists have been known to work at the Chicago FPA facility.
• Darwin C. Jackson, who appears to travel between abortion facilities in Illinois and Florida.
• Edwin C. Lichtenberg, who has several malpractice suits on file and was involved in the abortion death of 13-year old Deanna Bell in 1992.
• Murray Pelta, who has been sued many times for medical malpractice.
Visit AbortionDocs.org for more information concerning medical emergencies and legal cases filed against this Family Planning Associates Medical Group abortion facility.
[This post has been updated to better explain the use of a Foley catheter.]