online medical dictionary
, a fluid bolus would involve the intravenous pushing of large amounts of fluid into a patient within a relatively short time, usually under thirty minutes. When a person is hemorrhaging, the blood loss causes the heart to beat faster.  Fluids are sometimes administered to boost the volume of fluid in the blood system and stabilize the patient at least temporarily.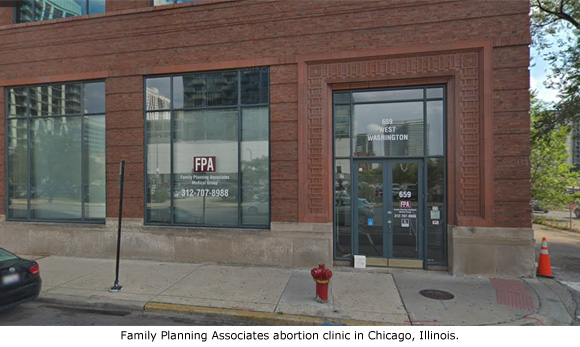 "This injured woman may have been wishing that Illinois law protected her from shoddy abortions.  Instead, as she laid in a hospital bed, Illinois was liberalizing abortion and stripping away any protections for women while determining that 'a fertilized egg, embryo or fetus does not have independent rights,'" said Operation Rescue President Troy Newman. The bill, known euphemistically as the Reproductive Health Act, was signed into law by Illinois Governor J.B. Pritzker on June 12, 2019.  It also eliminated abortion clinic licensing, spousal consent, waiting periods, and criminal penalties for abortionists. "Taking away accountability for abortionists and clinics will only make abortion more dangerous.  Illinois can expect to see an increase in women suffering serious abortion complications since there is no longer any motivation to improve already bottom-of-the-barrel practices," said Newman. The Family Planning Associates abortion facility has frequently inflicted harm on their abortion patients, and is a case on point for the argument that abortion is not safe. The May 31, 2019 incident was the fifth time in 15 months that a woman was transported from the FPA abortion facility on West Washington to Chicago's Northwestern Hospital suffering from a major abortion-related medical emergency. Other abortion-related medical emergencies include:
January 29, 2019: Woman choked on her own vomit after receiving an abortion.
August 11, 2018: Woman with serious post-operative bleeding.  FPA caller begged, "Please come quickly!"
March 21 and 24, 2018.  Both women were hemorrhaging uncontrollably.
The person who conducted the abortion on May 31 was a man, according to references made on the 911 recording.  Three male abortionists are known to work at the FPA abortion facility on West Washington:
Darwin C. Jackson, 69, travels between abortion facilities in Illinois and Florida.  He was recently confirmed by Operation Rescue to still be working at this FPA abortion business. His Florida license profile shows he paid nearly a million dollars ($950,000) in 2013 to settle medical malpractice suit filed outside Florida.
Edward Steve Lichtenberg, who has several malpractice suits on file and was involved in the abortion death of 13-year old Deanna Bell in 1992.
Murray Pelta, who has been sued many times for medical malpractice.
"None of these abortionists will ever be nominated for physician of the year, that's for sure. It is insane to allow these people to run amok over the lives and health of women and their babies without legal consequences," said Newman.  "Family Planning Associates should be shut down!"

By Cheryl Sullenger Chicago, IL – On the same day the Illinois State Senate passed an abortion law that established a woman's "fundamental right" to an abortion, one woman was transported by ambulance from the Family Planning Associates abortion facility on West Washington in Chicago to Northwestern Hospital. The woman suffered symptoms consistent with possible internal hemorrhaging. According to a 911 recording supplied to Operation Rescue by the Pro-Life Action League, the ambulance was dispatched on May 31, 2019, for a woman who had undergone an abortion earlier in the day.  After her abortion, she began to suffer from hypertension, or high blood pressure, and tachycardia, which is an abnormally rapid heartrate. A physician assistant at FPA told a 911 dispatcher that the patient was "not responsive to fluid boluses." According to an