UPDATE! Read the 911 CAD printout.
By Cheryl Sullenger
Bellevue, NE – The notorious late-term abortionist LeRoy Carhart, 75, who has killed one abortion patient and hospitalized at least 15 others in the past five years, has seriously injured yet another abortion patient, who required emergency medical intervention and hospitalization.
Emergency units were dispatched to Carhart's dilapidated Abortion and Contraception Clinic of Nebraska, located in the Omaha suburb of Bellevue, in response to a 911 call place at approximately 3:08 p.m. on Friday, March 24, 2017. The fire unit was first on the scene, followed minutes later by an ambulance.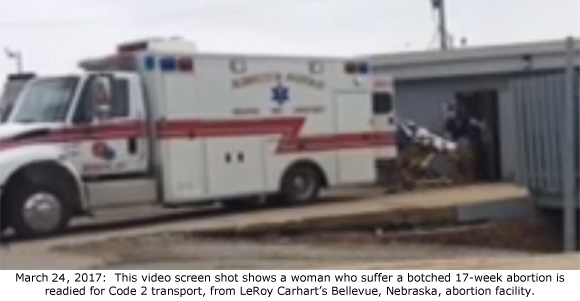 According to emergency dispatch radio traffic obtained by Operation Rescue, the patient was a 35-year old female who had just completed at abortion of her baby at 17-weeks gestation.
"Carhart has not aged well, and he is injuring more women as time goes by. We have followed Carhart's exploits for many years and know that while he has always been too good at killing babies, he has never been very good at avoiding catastrophic medical injuries and patient deaths," said Troy Newman, President of Operation Rescue. "There is no way he should be allowed to continue his baby-killing business that has maimed and killed so many women."
The woman suffered from difficulty breathing and excessive bleeding that Carhart and a second physician were incapable of controlling at the run-down facility where Carhart has operated for decades.
This once again raises questions about the safety of women seeking abortions at stand-alone facilities that are not equipped to cope with the many life-threatening complications that can arise, especially during the riskier second and third trimester abortions for which Carhart is well known.
Paramedics spent 17 minutes inside the facility before transporting the injured woman using Code 2 to Bellevue Medical Center. Code 2 represents an acute but non-time critical transport that does not require lights and sirens.
Carhart was seen on the video exiting his abortion facility and climbing into the ambulance so he could accompany his patient to the hospital – something Carhart rarely does. However, the aging abortionist holds no hospital privileges and would not be allowed to continue treating her (perhaps thankfully) once she reached the hospital.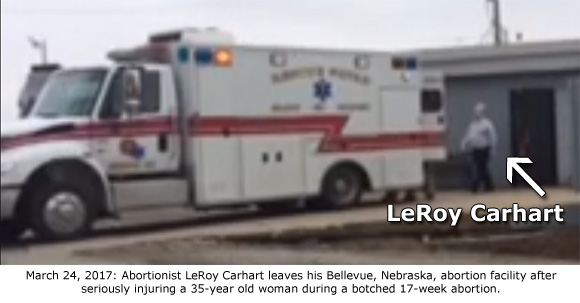 "Only a political climate that is bent on protecting abortionists at any costs has kept a shoddy abortionist like Carhart in business. Corrupt abortion attorneys shield him from the consequences of his actions, which are much more akin to those of Josef Mengle than Albert Schweitzer," said Newman.
Carhart is currently being sued by former abortion patient Wendy Devine, who is alleging that LeRoy Carhart so severely botched her late-term at Germantown Reproductive Health Services in Germantown, Maryland, that she nearly died and will likely never bear another child.
Carhart was also under investigation by the House Select Investigative Panel on Infant Lives for suspected participation in the illegal sale of aborted baby remains, and for possible violations of the Born Alive Infant Protection Act. Unfortunately, the Panel ended before the investigation could be concluded.
Below are other medical emergencies involving LeRoy Carhart that have occurred over the past five years.
• February 7, 2017, Germantown, MD: Abortion patient transported to a local hospital for "problems" that were completely redacted from 911 records. (Video, 911 records on file with OR)
• December 29-30, 2016, Germantown, MD: Two of Carhart's abortion patients returned to the abortion facility in the middle of the night to be treated for complications. One women was seen waddling into the facility holding what appeared to be a shower liner between her legs. Neither woman was transported to the hospital by ambulance. (Photos)
• April 4, 2016, Germantown, MD: Hemorrhaging late-term abortion patient transported to emergency room. All other patients sent home. (Video, 911 recording, Scanner audio)
• March 30, 2016, Germantown, MD: Private ambulance called for late-term abortion patient. (Video, 911 recording, Scanner audio)
• March 20, 2016, Germantown, MD: Underaged woman transported to Shady Grove Hospital suffering "heart problems." (Video, 911 recording, Scanner audio)
• February 4, 2016, Bellevue, NE: Woman transported to hospital suffering from an incomplete abortion. (Video)
• January 19, 2016, Germantown, MD: Late-term abortion patient bleeding seriously transported to hospital. (Video and 911 recording)
• December 15, 2015, Germantown, MD: Abortion patient transported to emergency room while Carhart accompanies.
• July 2, 2014, Germantown, MD: African-American abortion patient transported to hospital.
• April 26, 2014, Bellevue, NE: Patient, 37, suffered from abdominal pain after Carhart had an "issue with the procedure." (Video with 911 recording)
• March 4, 2014, Germantown, MD: Patient hemorrhaged after 2nd trimester abortion complications.
• November 30, 2013, Bellevue, NE: Patient suffered 2nd trimester abortion complications.
• November 26, 2013, Germantown, MD: Patient required emergency surgery. (Video with 911 recording)
• July 9, 2013, Germantown, MD: Patient hemorrhaged. (Video with 911 recording)
• February 7, 2013, Germantown, MD: Patient Jennifer Morbelli died of 3rd trimester abortion complications. (Autopsy Report)
• March 31, 2012, Bellevue, NE: Patient heard moaning and screaming during 911 call (Video with 911 recording.)