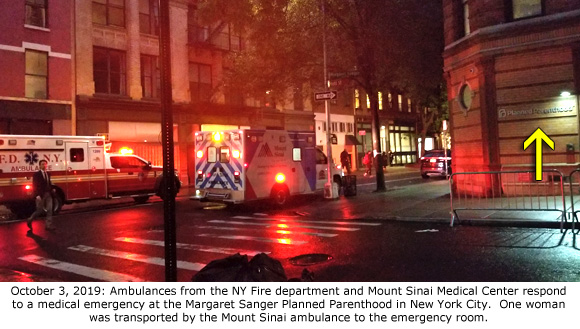 New York, New York – Pro-life supporters have documented that three women in five days were transported by ambulance from the Margaret Sanger Planned Parenthood abortion facility on Bleecker Street to local hospitals.
The first in this string of emergencies took place on Thursday, October 3, 2019, at approximately 6:30 p.m.  Two ambulances, one from Mount Sinai Medical Center and one from the New York Fire Department, arrived at the abortion business.  The Mount Sinai ambulance crew entered the Planned Parenthood facility with a gurney and later transported one woman to the emergency room suffering from unknown ailments and/or injuries.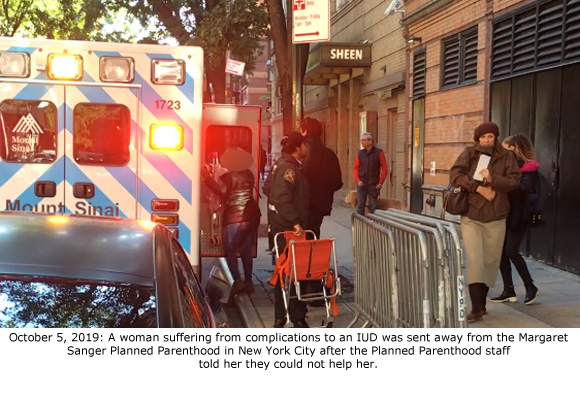 The second emergency happened on Saturday, October 5, 2019.  According to one witness, a 19-year old woman who had been seen at the Margaret Sanger Planned Parenthood a few days before for an IUD insertion, returned to the abortion facility suffering complications.
"Obviously something went wrong and just caused all kinds of problems.  She was in excruciating pain," the witness said.
However, the Planned Parenthood staff told her there was nothing they could do for her, which seemed unusual since IUD insertion and removal is done routinely at Planned Parenthood facilities.  Instead, they called an ambulance for the suffering girl, who was transported to Mount Sinai Medical Center for legitimate medical care.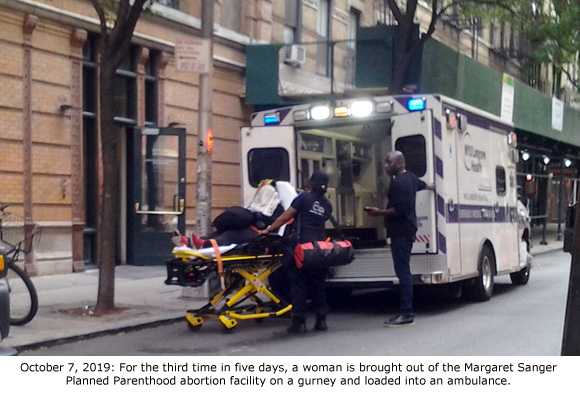 The latest emergency at Planned Parenthood's flagship abortion facility took place just after 10:00 a.m. on October 7, 2019.  EMTs entered Planned Parenthood and left it with a woman on a gurney with her face covered by a cloth.  She was loaded into an ambulance from NYU Langone Health and transported to the hospital.  Her condition is unknown.
Operation Rescue has documented 32 medical emergencies at the Margaret Sanger Planned Parenthood since 2016.  The frequency of these incidents appears to be increasing with 12 of them having happened this year, with over two and a half months left to go.
The increase in medical emergencies can be traced back to the passage of the Reproductive Health Act on January 22, 2019, which allowed abortion throughout all nine months of pregnancy and made abortion facilities less accountable to oversight agencies.
"Abortion facilities now know they will never be held accountable for shoddy practices, so that is exactly what women are getting in New York. The Reproductive Health Act was passed under the false notion that it would make things better for women, but instead, it has only placed women in more danger than ever before, as we predicted," said Operation Rescue President Troy Newman. "This is an object lesson in the benefits of strong pro-life laws, but is ultimately a case in point for the complete eradication of abortion in America."