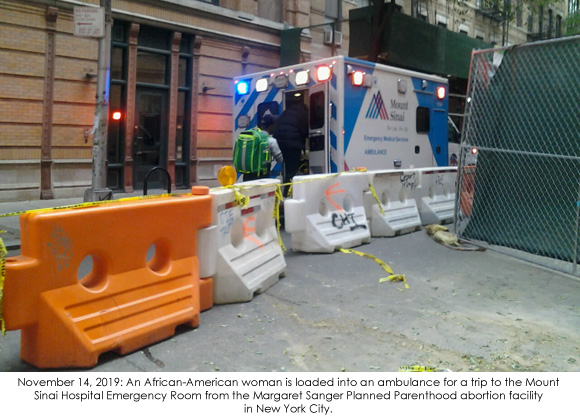 By Cheryl Sullenger
New York, NY – Negotiating a cluttered New York City side street narrowed with construction barricades and debris, an ambulance parked near the front door of Planned Parenthood's aptly-named flagship abortion facility, the Margaret Sanger Health Center, located on the corner of Bleecker Street and Margaret Sanger Square in Manhattan.  Sirens that may have announced its arrival were silenced while the ambulance was still a block away.
Two paramedics immediately rushed in the front door and up the cramped elevator – too small to accommodate a gurney – to care for a Planned Parenthood customer in the midst of a medical emergency.
The incident took place on Thursday, November 14, 2019, at around 10:15 a.m., according to an eyewitness who snapped photos of the activity.  Eight minutes after their arrival, the paramedics emerged with a young Black woman who walked to the ambulance and climbed in while her companion looked on.
The Mount Sinai Hospital ambulance remained parked at the high-rise Planned Parenthood facility for another 20-25 minutes while they "processed/stabilized" the woman, according to one pro-life advocate, before it silently pulled away.  Sirens that alerted motorists to make way for the ambulance were only employed after it was well away from the abortion facility.
This emergency represents the thirteenth woman known to have been transported to a hospital emergency room From the Margaret Sanger Planned Parenthood so far in 2019.  The nature of these medical emergencies remains somewhat of a mystery, since 911 records are not made available to the public in New York City.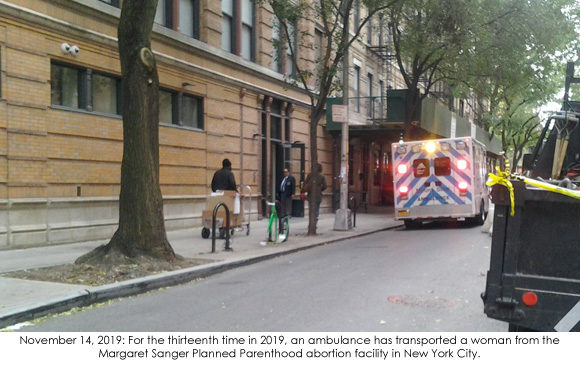 It is known, however, that the Margaret Sanger Planned Parenthood is a high-volume abortion facility that targets poor urban women of color for abortions.  Photos provided to Operation Rescue by local pro-life advocates show that the majority of women who have been transported to emergency rooms from this Planned Parenthood abortion facility have been African-American women.
The facility's namesake, Margaret Sanger, was the founder of Planned Parenthood.  Her advocacy for eugenics and limiting the population of certain races she considered undesirable is well documented.
In all, Operation Rescue has evidence of 33 medical emergencies at the Margaret Sanger Planned Parenthood since 2016.  The frequency of these incidents appears to have increased with the passage of the New York Reproductive Health Act on January 22, 2019, which allows non-physicians to conduct abortions and liberalized abortion throughout all nine months of pregnancy.
"New York is a case in point for pro-life legislation that protects women from shoddy abortion practices.  When states roll back on common-sense abortion accountability and safety regulations, women suffer the consequences in emergency room visits, traumatic injuries, and sometimes death," said Troy Newman, President of Operation Rescue, which tracks medical emergencies at abortion facilities nationwide.  "This is also more evidence that abortion is not safe, and women should understand that before even considering a visit to Planned Parenthood or any other abortion facility."
In May, Planned Parenthood of Greater New York announced it would merge with four other Planned Parenthood state affiliates – including those of Nassau County, Mid-Hudson Valley, Mohawk Hudson and the Southern Finger Lakes – to create an operating budget of an estimated $110 million.
Below is a list of dates with links to more information about the thirteen medical emergencies at the Margaret Sanger Planned Parenthood so far in 2019.
November 14, 2019 (this incident)