By Cheryl Sullenger
New York, NY – As pro-life activists prayed and offered practical assistance to abortion-bound women, two ambulances pulled up to the Margaret Sanger Center Planned Parenthood on Friday, June 7, 2019, and removed a woman on a gurney completely covered with a sheet.
According to video and photographs taken at the scene, an ambulance from Mount Sinai Hospital arrived first and entered the Margaret Sanger Planned Parenthood with a gurney.  Soon, an ambulance from New York Presbyterian Hospital arrived.  EMS from both ambulances assisted in caring for the woman and loading her into the Mount Sinai ambulance, which then transported her to the hospital.
Extra personnel may have been needed because ambulance gurneys do not fit into the elevator that leads to the Planned Parenthood office.  Women are usually brought down the elevator in wheelchairs, then either wheeled out to the ambulance or moved onto a gurney for transport.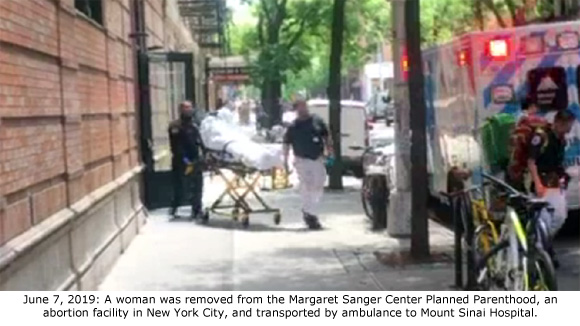 It appears that women who suffer more serious conditions or injuries are placed on gurneys.
Ambulances have transported seven patients from the Margaret Sanger Planned Parenthood abortion facility to a hospital emergency room during a 16-week time span from February 16 to June 7, 2019.
Six of the transported women have been African-Americans.  The most recent patient on June 7 was totally covered, so her ethnicity is unknown.  The Margaret Sanger Planned Parenthood, located on the corner of Bleecker St. and Margaret Sanger Square in Manhattan, focuses on attracting poor urban women of color for abortions.
"The Margaret Sanger Planned Parenthood is a very dangerous place for women and their unborn babies. This abortion facility cranks out botched abortions at a very troubling rate," said Troy Newman, President of Operation Rescue.  "A full investigation into patient care and safety practices should be conducted, but given it is New York, any investigation there is likely to be done with a blindfold when it comes to Planned Parenthood."
Dates when ambulances have transported Margaret Sanger Planned Parenthood patients this year include:
For more about medical emergencies at the Margaret Sanger Planned Parenthood and at abortion facilities around the nation, visit Abortion911.com.