By Cheryl Sullenger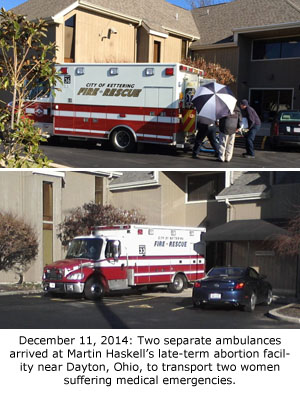 Kettering, Ohio – Local pro-life activists have informed Operation Rescue that yesterday, December 11, 2014, two ambulances were called to Martin Haskell's infamous late-term abortion facility, Women's Med Center in the Dayton suburb of Kettering, Ohio.
The ambulances each transported one woman to a nearby hospital where neither Haskell nor his hired abortionists hold hospital privileges. Their conditions are currently unknown. Photos of the two ambulances, one showing clinic personnel attempting to shield a gurney with an umbrella, were provided to Operation Rescue by Bob Skovgard.
"This is the fifth medical emergency we have documented at Haskell-operated abortion facilities in the past two years," said Troy Newman, President of Operation Rescue. "It is clear that the lives of women are being routinely placed in jeopardy by Women's Med Center staff. The State of Ohio should move quickly to deny renewal of Haskell's facility license and shut down this abortion clinic before further tragedy strikes."
According to Ohio law, abortion facilities must maintain a valid transfer agreement with a local hospital to meet licensing qualifications. However, Haskell could not qualify for such an agreement. Instead, he has operated his Women's Med Center, which does abortions throughout all nine months of pregnancy, on a variance granted by the Ohio Department of Health (ODH).
Earlier this year, Haskell's second abortion facility located in the Cincinnati suburb of Sharonville, was forced to close after he exhausted his legal appeals of an ODH closure order.
"There is a history of problems with this particular ambulatory surgery facility and operator," an ODH spokeswoman told the Cincinnati Enquirer in January. "The agency no longer has confidence that this ambulatory surgery facility will take necessary steps to operate in accordance with regulations."
Those problems persist at Haskell's Kettering facility. Currently approval of Haskell's variance renewal application is under review.
Haskell has a long history of medical emergencies at the Kettering facility, including one incident on August 16, 2012, where a 37-year old patient suffered uncontrolled hemorrhaging after an abortion.
Operation Rescue, along with local activists, are continuing to seek additional information about yesterday's two medical emergencies.