By Cheryl Sullenger
Wichita, KS — The emergency transport of an abortion patient in "urgent" condition to a local hospital was needlessly delayed by an intentionally vague abortion clinic worker and a distracted 911 dispatcher. This incident took place at South Wind Women's Center abortion facility in Wichita, Kansas, on April 15, 2016.
Operation Rescue obtained 911 records that indicate a patient was in need of emergency transport to Wesley Medical Center, a nearby hospital. She was transported Code Yellow, which means she was an urgent patient, but not necessarily in a life-threatening situation.
Such calls usually require lights and sirens, but the caller from South Wind told the dispatcher that they were not needed.
There was essentially no sense of urgency shown for the patient in the 911 recording. The dispatcher is heard interrupting the abortion facility caller and having her wait while the dispatcher handled radio traffic with firefighters on unrelated and seemingly non-emergency calls.
The South Wind employee only noted that the patient was in stable condition, but never answered questions about what happened to her.
"Well, the patient is in stable condition, but the doctor feels that it's indicated for her to be transported," the South Wind caller said.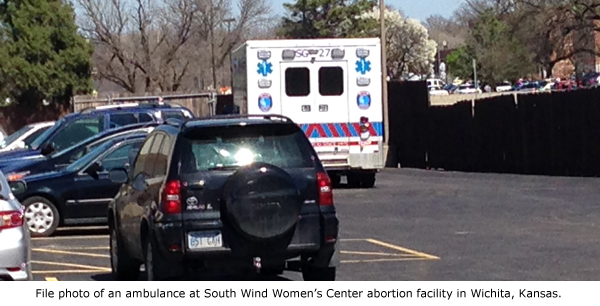 The South Wind employee seemed concerned about how long it would take the ambulance to arrive, making the delay in dispatching units even more concerning.
"Listening to the 911 recording, it seems like getting the patient urgently-needed emergency care in a timely manner was an afterthought with both the clinic worker and the dispatcher," said Operation Rescue President Troy Newman. "The abortion caller was focused on not revealing too much about the patient's condition, while the dispatcher was more concerned about water in the street."
South Wind recently built a nine-foot tall fence around the property and put in a new automatic gate on the north side of the building so ambulances could avoid pro-life supporters who offer help to women at the main west gate.
"We have caught this abortion business engaging in deceptive behavior in the past. Now they are acting like they have even more to hide," said Newman.
In 2011, the legislature passed an abortion facility licensing law that would have prevented this clinic from ever opening. Because that law has been stuck in a county court for five long years – with no end in sight — South Wind has never been inspected and remains outside of any oversight authority.
"The fact that Attorney General Derek Schmidt has dragged his feet on this law for five years is unconscionable. He is ultimately responsible for every women that is hurt by the South Wind abortion clinic," said Newman. "It is a source of shame for an administration that claims to be pro-life."
Please contact Attorney General Derek Schmidt and demand that he defend the 2011 abortion facility licensing law before someone dies at an unaccountable abortion business.
Attorney General Derek Schmidt
Voice: 1-888-428-8436
E-Mail Web Form: Click Here.