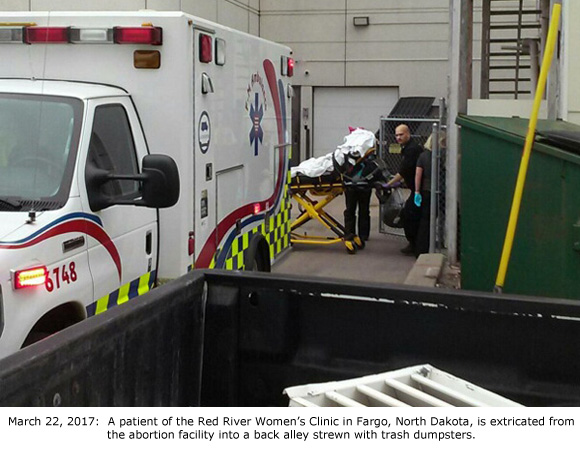 By Cheryl Sullenger
Fargo, ND – When an ambulance was summoned on Wednesday to the Red River Women's Clinic abortion facility in Fargo, North Dakota, paramedics discovered that the gurney they used could not fit in the front door.
Instead, they went around to the back door and brought the patient out into an alley filled with trash dumpsters.
"It's almost like the Red River Women's Clinic sent this woman out with the trash," said Troy Newman, President of Operation Rescue. "Their only employee seen at the scene wore a pink eared-hat that vulgarly objectifies women and reduces them to merely their reproductive parts. It is a disgusting view of women that should make the Red River Women's Center staff blush with embarrassment."
Records accessed by Operation Rescue show that the patient, whose head was covered with towels, was transferred to another facility – most likely a hospital – in Clay County, Minnesota, just across the state line from Fargo.
"Once again, an ill-equipped abortion facility that isn't prepared to handle emergencies that commonly arise from abortions, must call for help to hospitalize one of their patients," said Newman. "Abortion facilities are not equipped to handle botched abortions, yet they fight like the devil to keep doing them anyway, no matter how many are maimed or killed. We call on the North Dakota Board of Medicine to immediately investigate the Red River Women's Clinic."
The woefully outdated Red River Women's Clinic is the last remaining abortion facility in North Dakota and is a member of the National Abortion Federation, a group of abortion facilities that are often found to be among the nation's most shoddy.
The NAF also has been linked with Planned Parenthood to the sale of illegal aborted baby body parts. The NAF filed suit against Troy Newman and the Center for Medical Progress to block the release of footage that might incriminate them.